Inspiring Individuality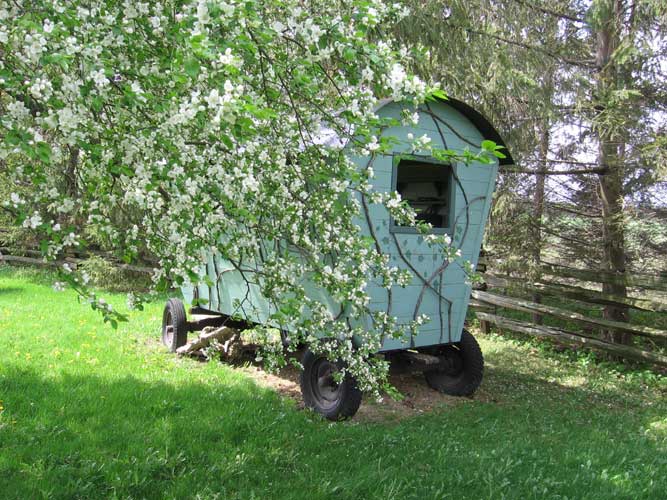 April 2016 Small Caravan Workshop
children`s playhouse or chicken coop
In this two weekend workshop at a local farm, build a moveable playhouse or chicken coop. The fee includes catered meals for 2 people.
Cost per caravan: $600 plus material costs
Dates: April 22-24 and April 29-May 1
Time: Friday evening to Sunday afternoon
Limited to 5 caravans
please email for information
FOR SALE
Tiny Perfect Reading Room

No Longer For Sale, but can be copied for $4000-$5000

single bed converts to table or desk

all cedar, only 6' long

stained glass windows

'canoe' cedar ceiling

Portable Chicken Coop

$800

fully insulated

suitable for up to 12 hens

8 laying boxes

4'x5' floor
Under Construction
Small plywood version of the cedar reading room but less than half the price
This one is going to the Sterling Renaissance Festival next summer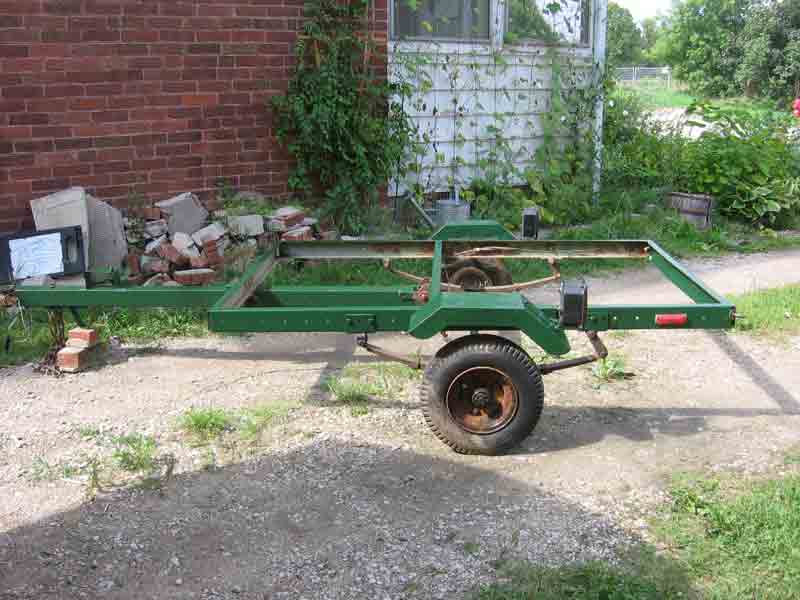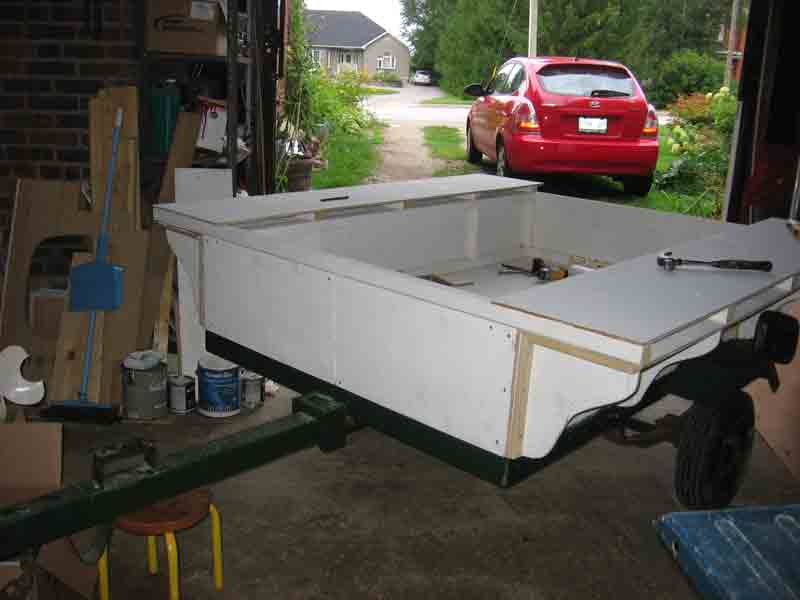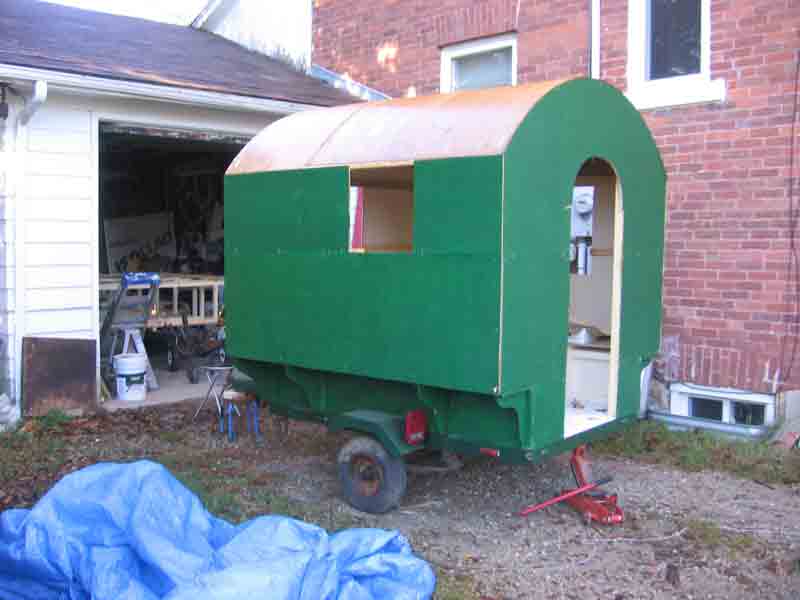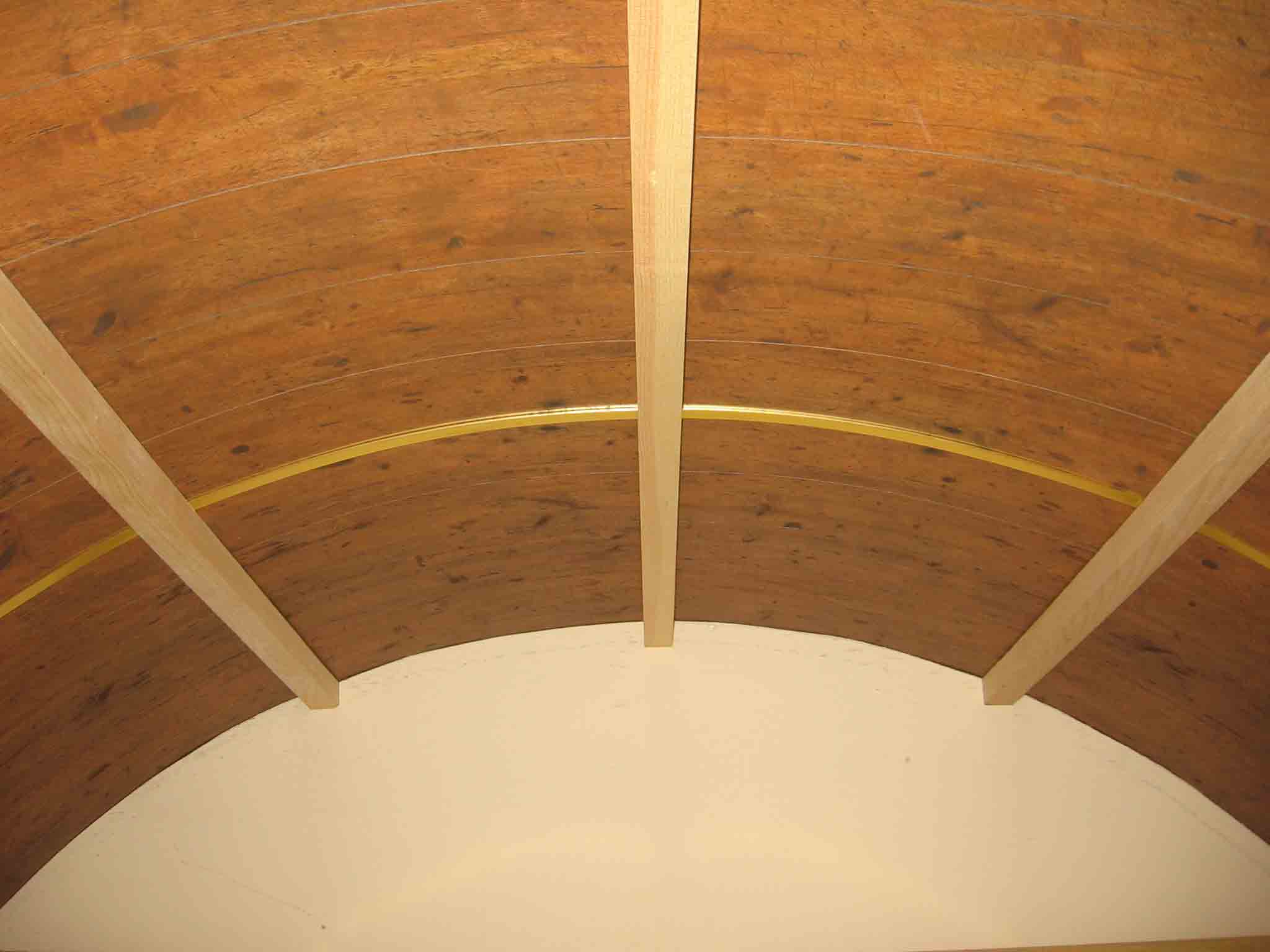 9' long ledge wagon heading for Pennsic 2016
We are currently waiting for the tongue and groove pine siding to be cut for us locally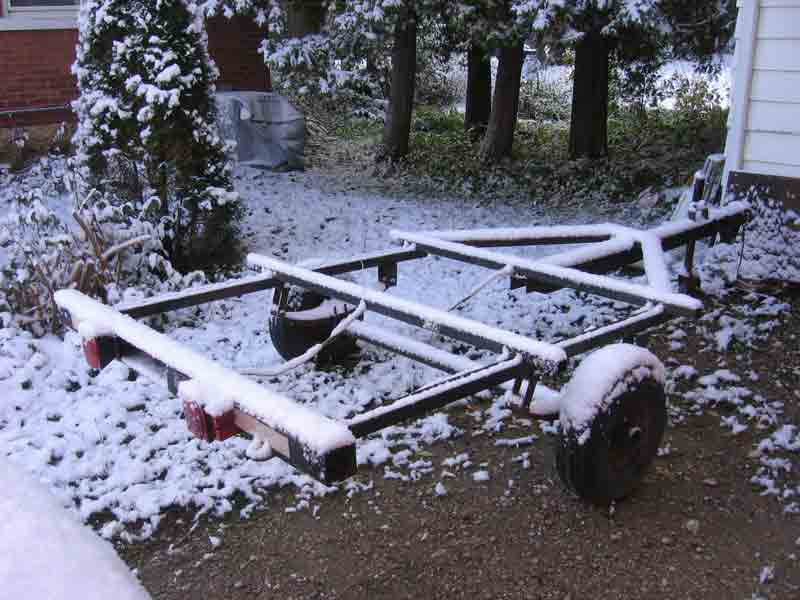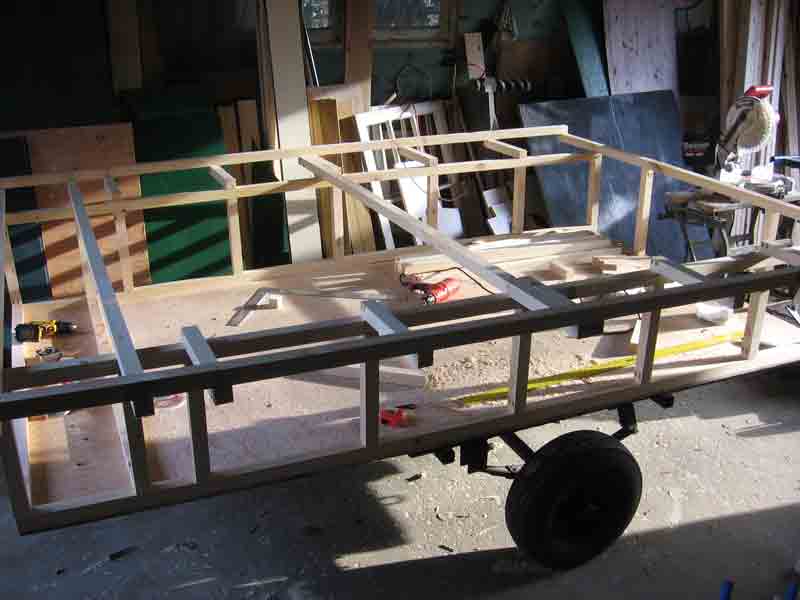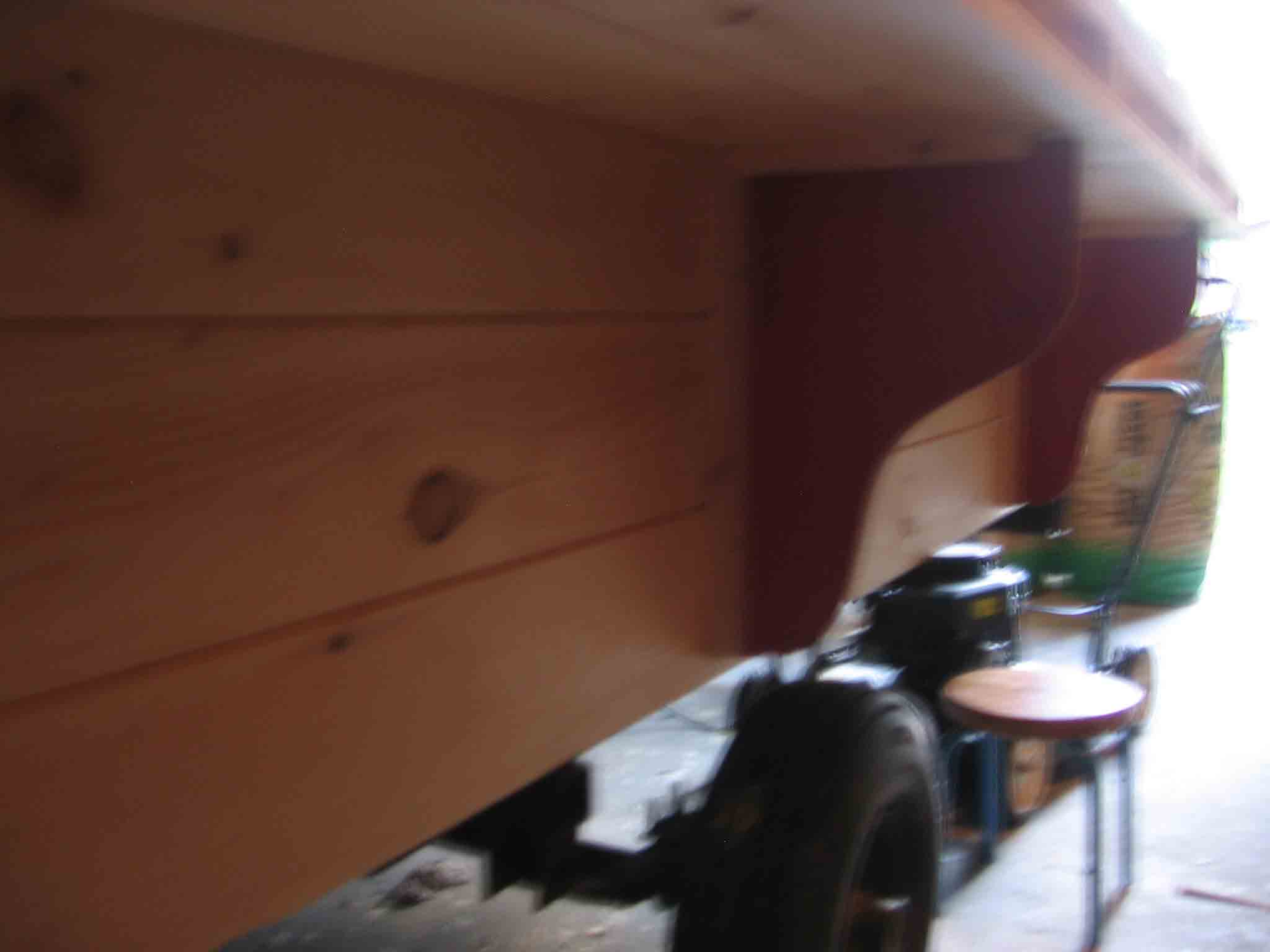 3:
11' x 6' straight sided full time living space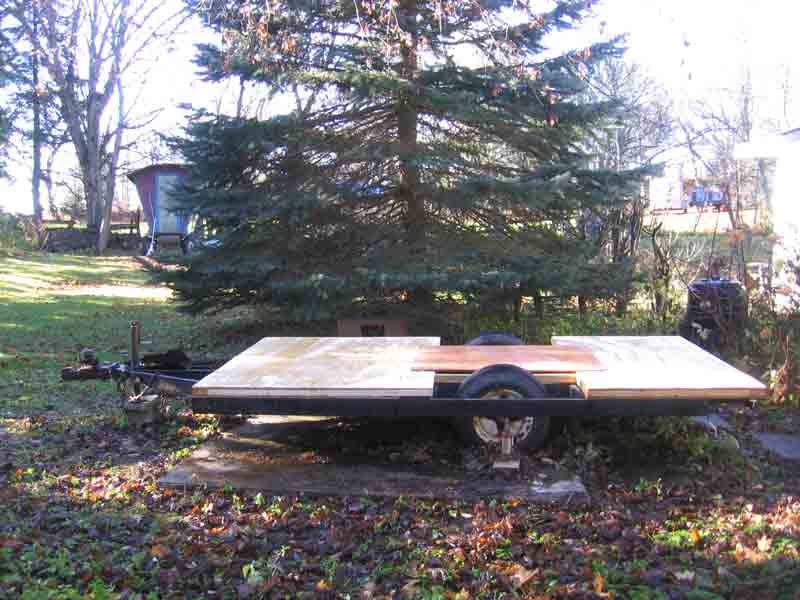 2015 Events
Georgian Homesteading and Survival Show, Aug 2-3, 2015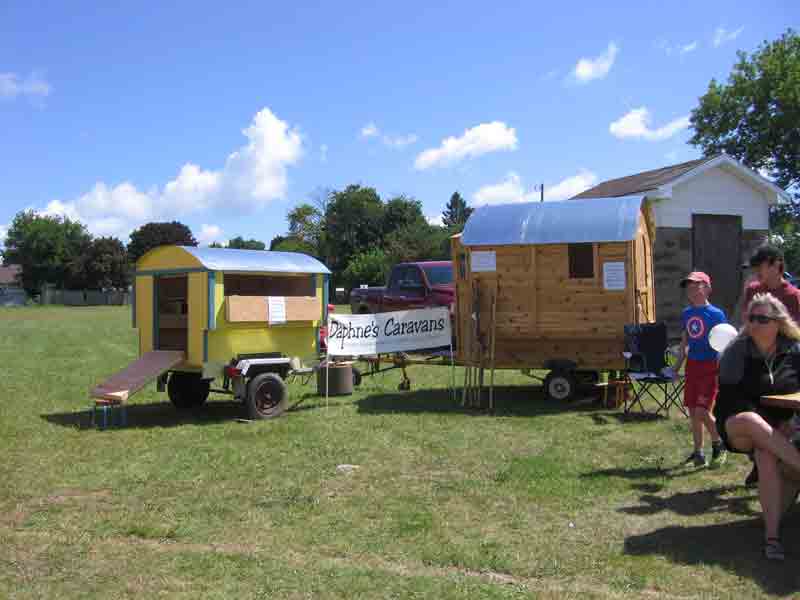 Welbeck Sawmill Wood Expo, Aug 7-8 2015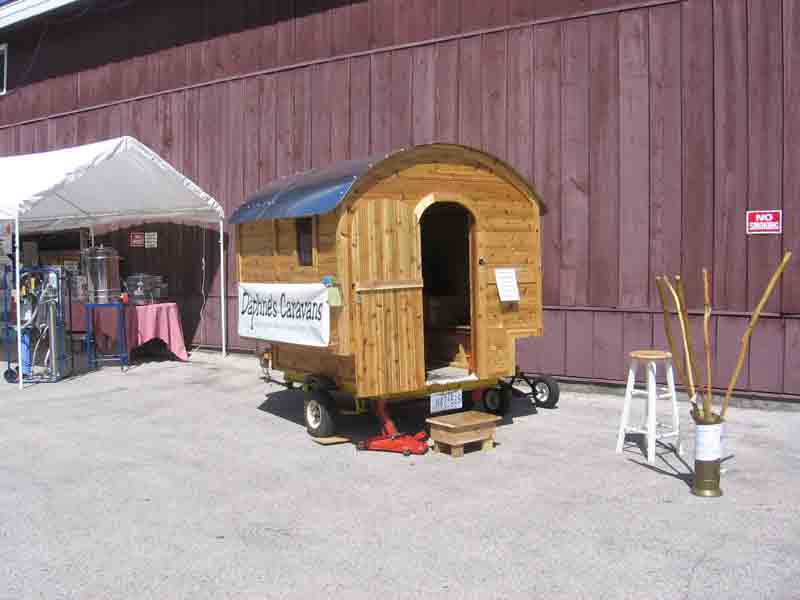 2015 Projects:
A new idea for us: a fully-insulated chicken coop, on a simple 4'x5' trailer. `The girls` are happy in their new home and laying delicious country eggs in the spacious boxes.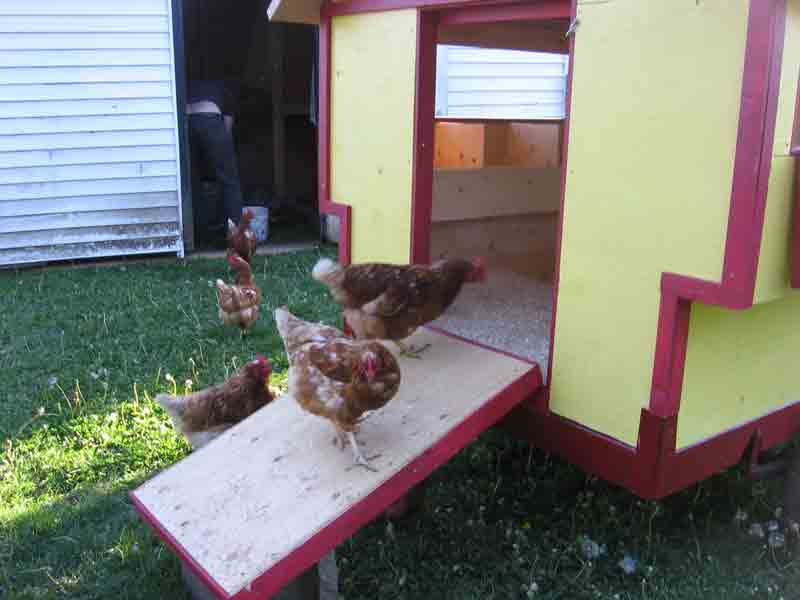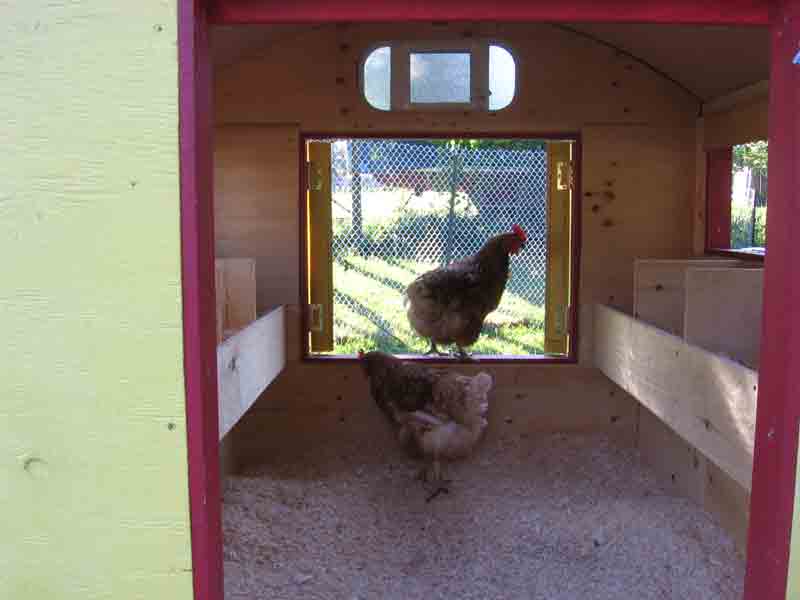 After the first, I suddenly found myself building a second chicken coop, in a hurry, to be ready for the Georgian Homesteading and Survival Show. Building in modular pieces with plywood is certainly faster!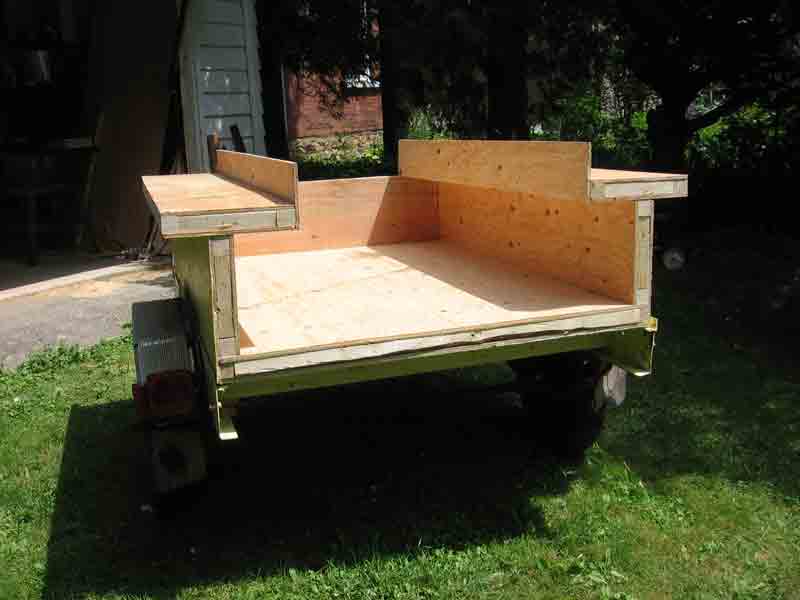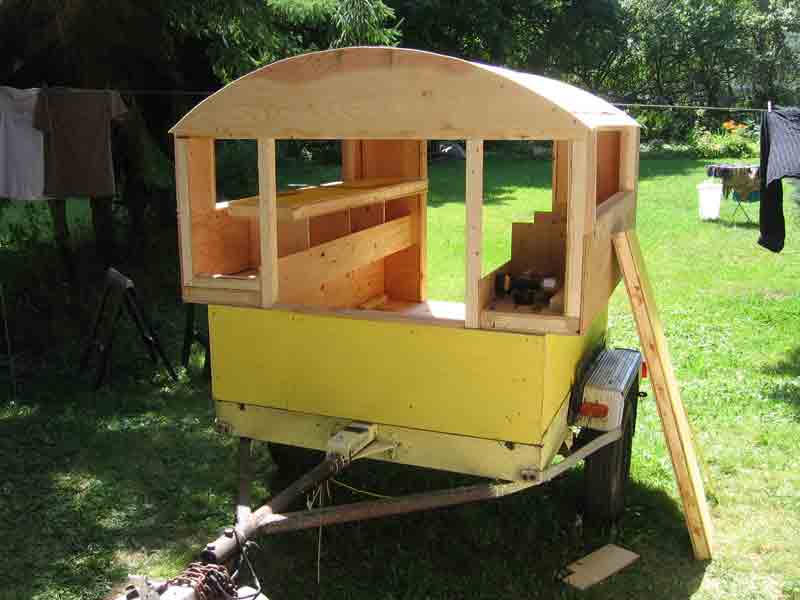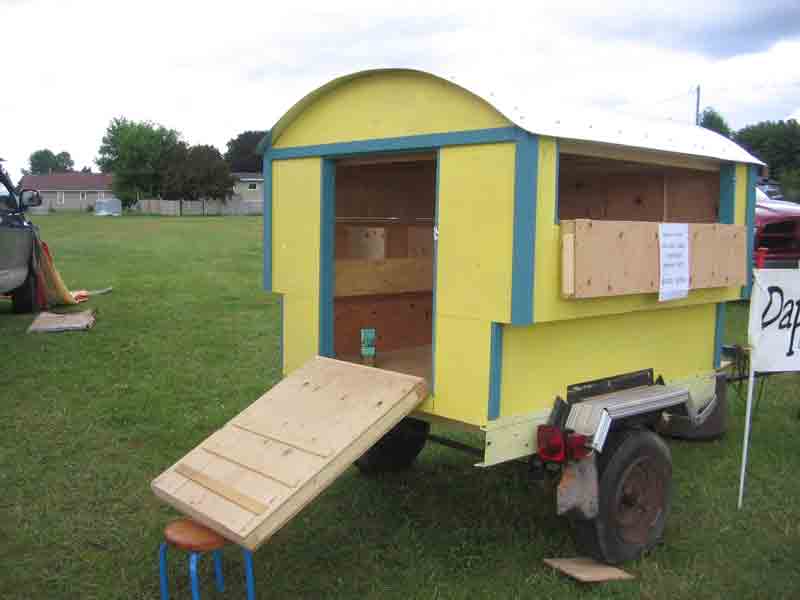 Next, my cedar reading room caravan.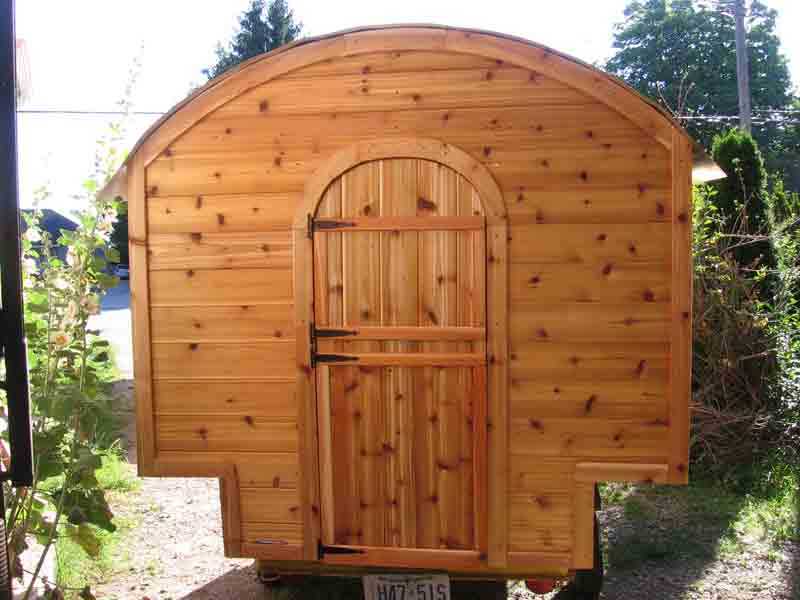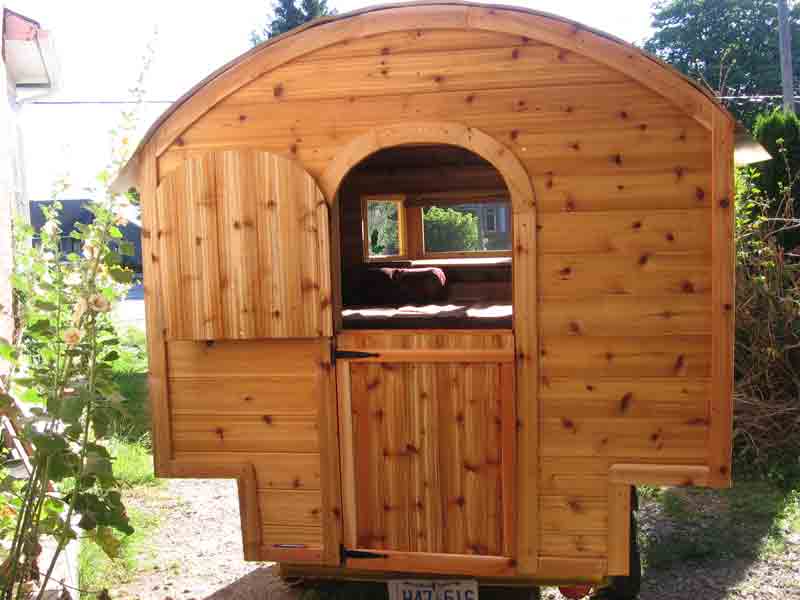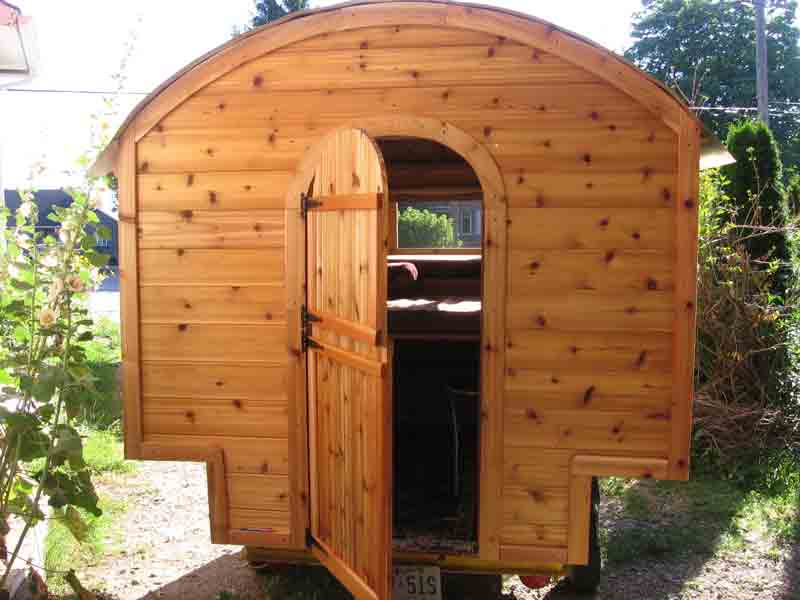 Many thanks to my brother Rob who made the beautiful doors.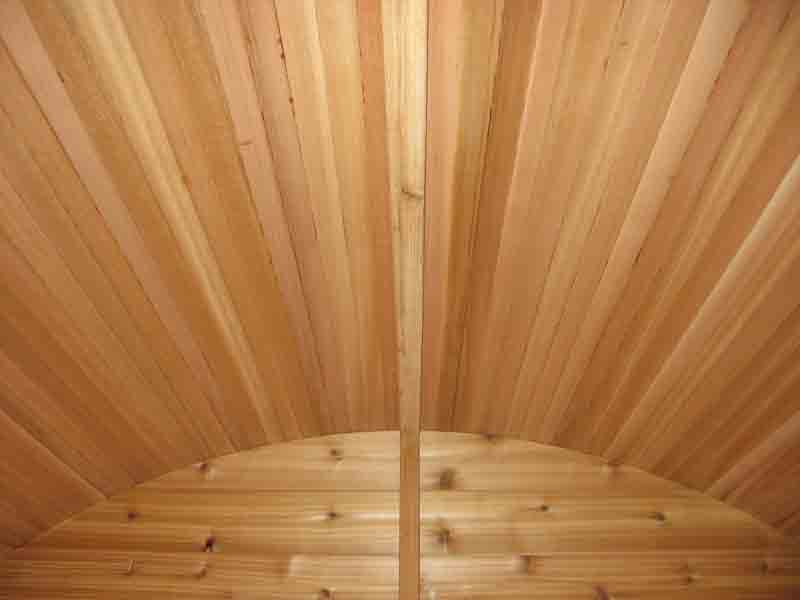 And many thanks also to Skip Izon, of Shadow River Boatworks, for cutting the boards for the cedar strip ceiling.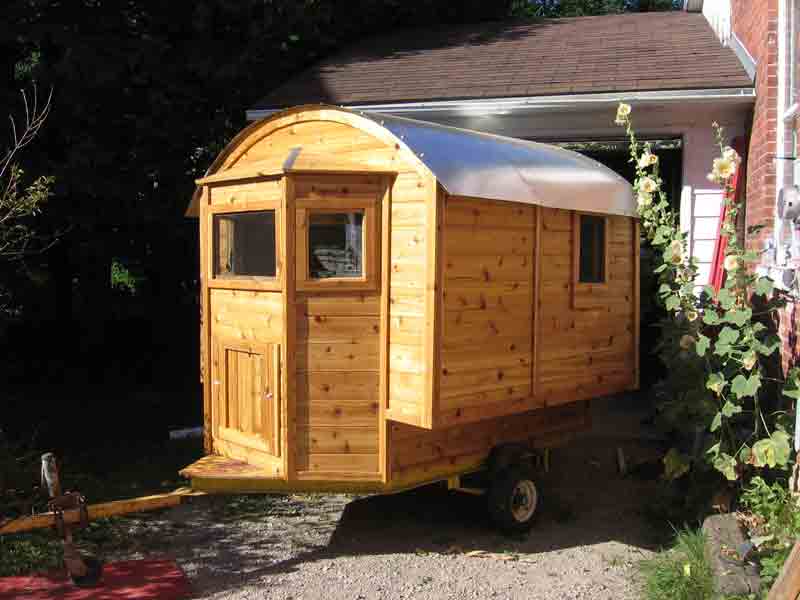 The writing desk in front of the bay window converts to a bed.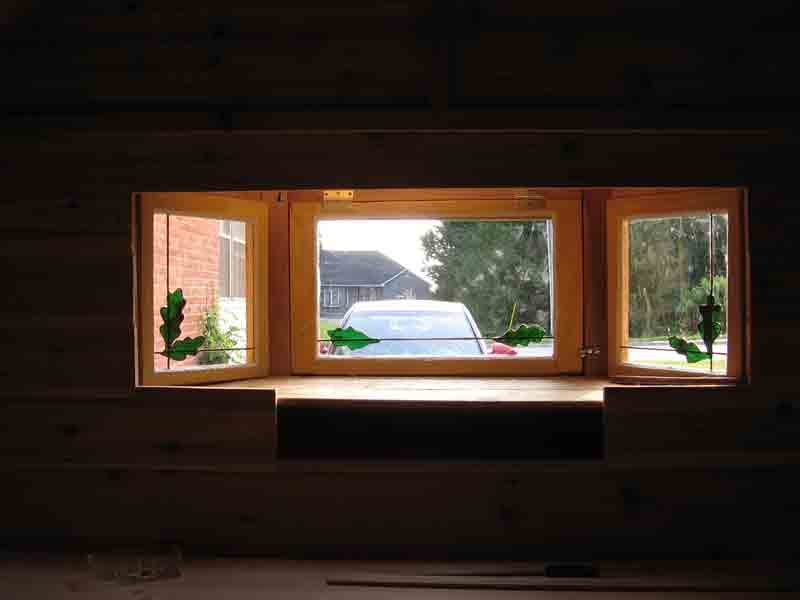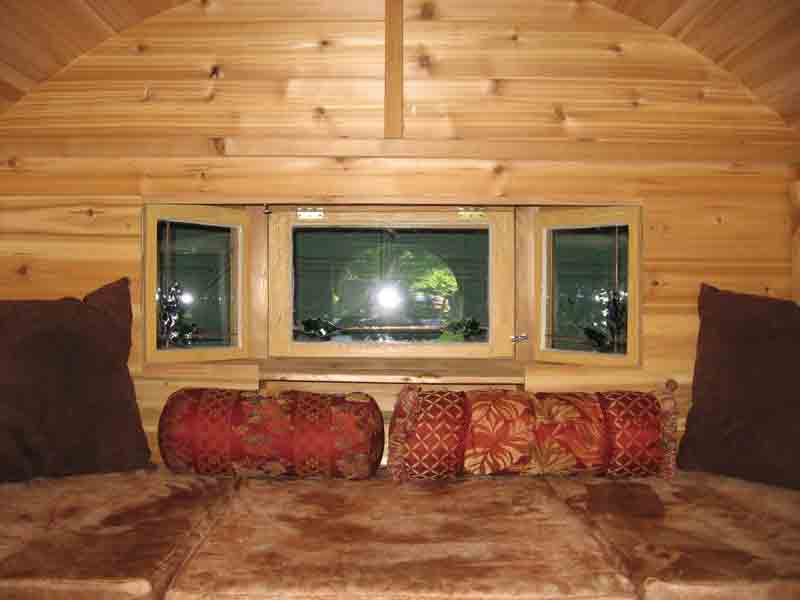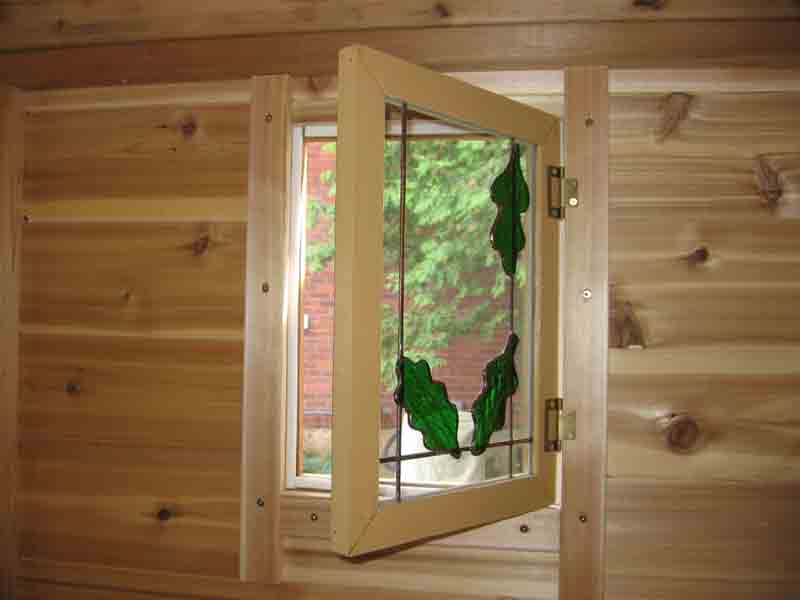 I'm back to working with stained glass, so custom windows are now a possibility.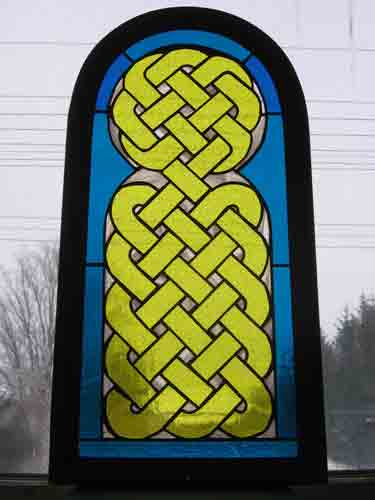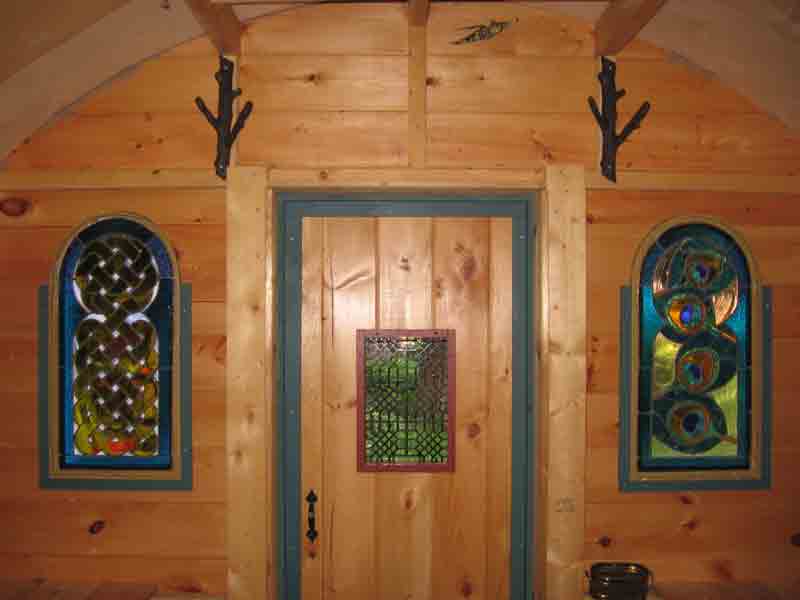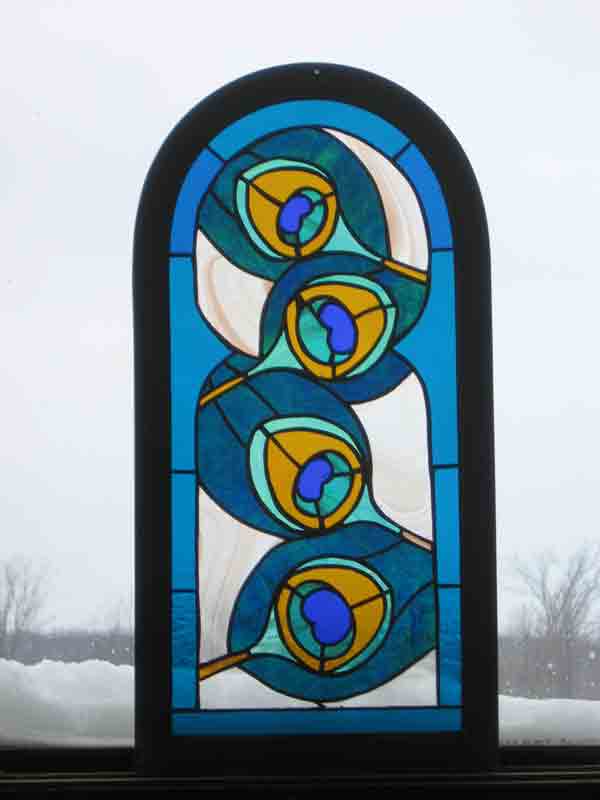 Minnie, from 2012, at a pumpkin festival in October 2015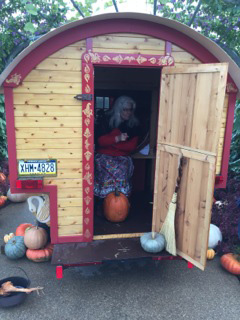 Here's a FABULOUS look!!!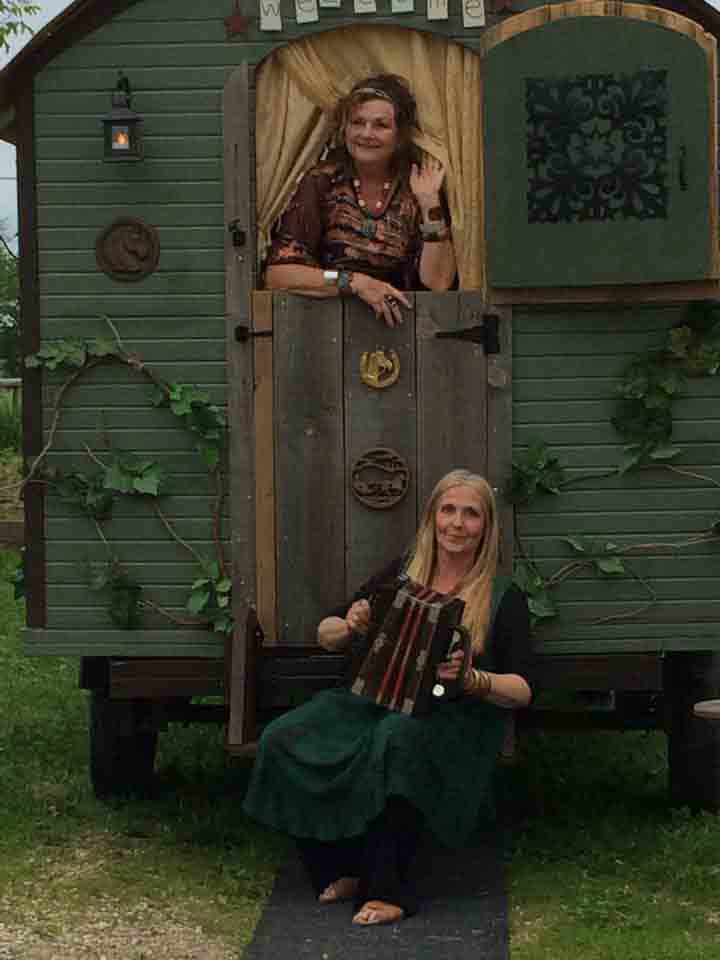 Nancy's horsedrawn caravan!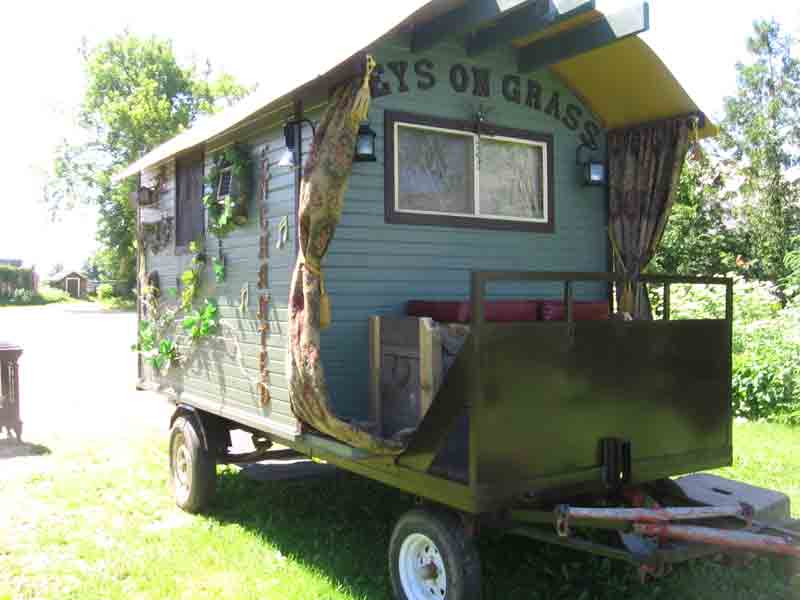 The decoration is Value Village and personal nostalgia, and the effect is stunning! She says it's finished, but.....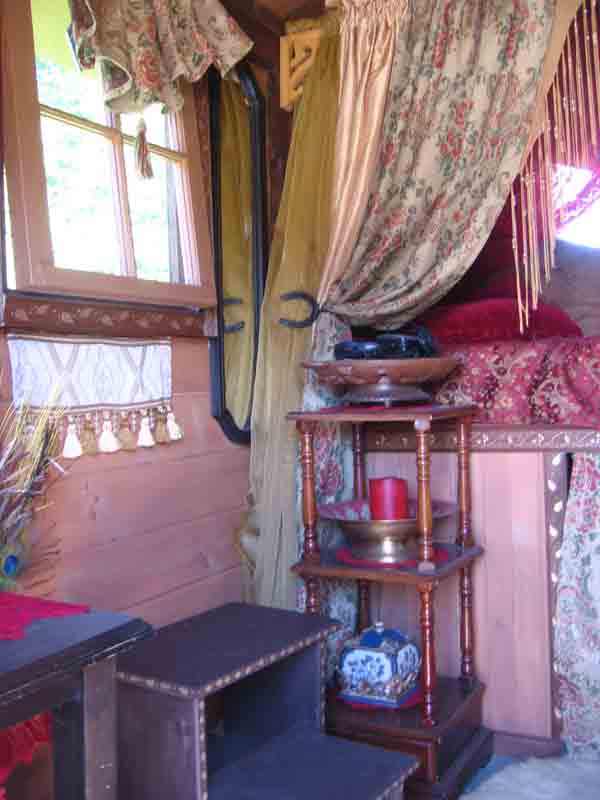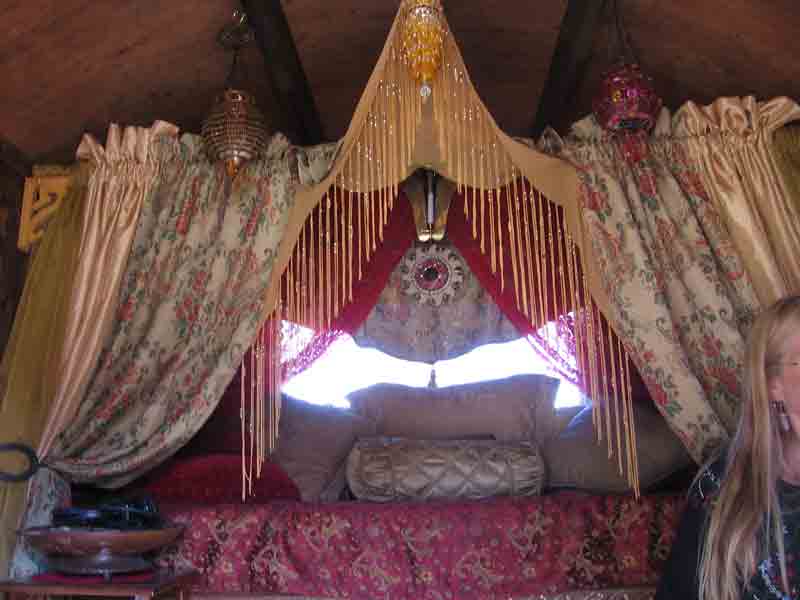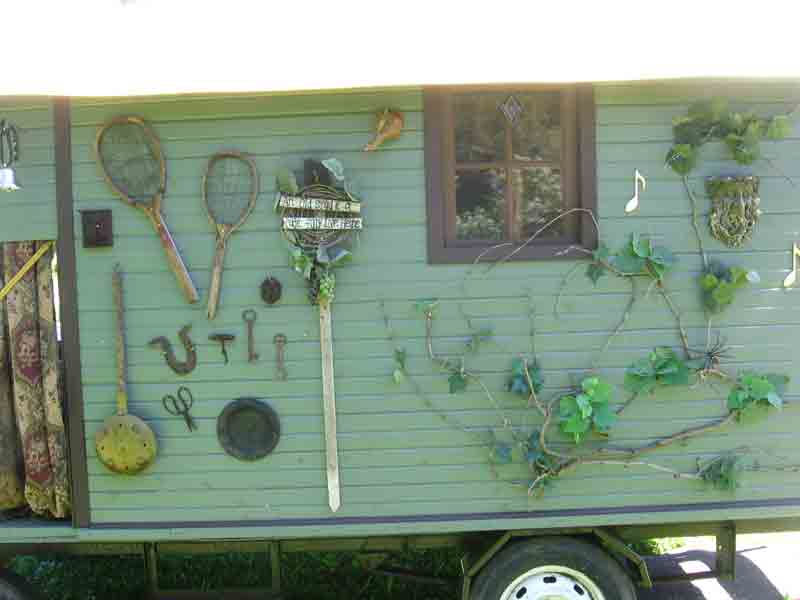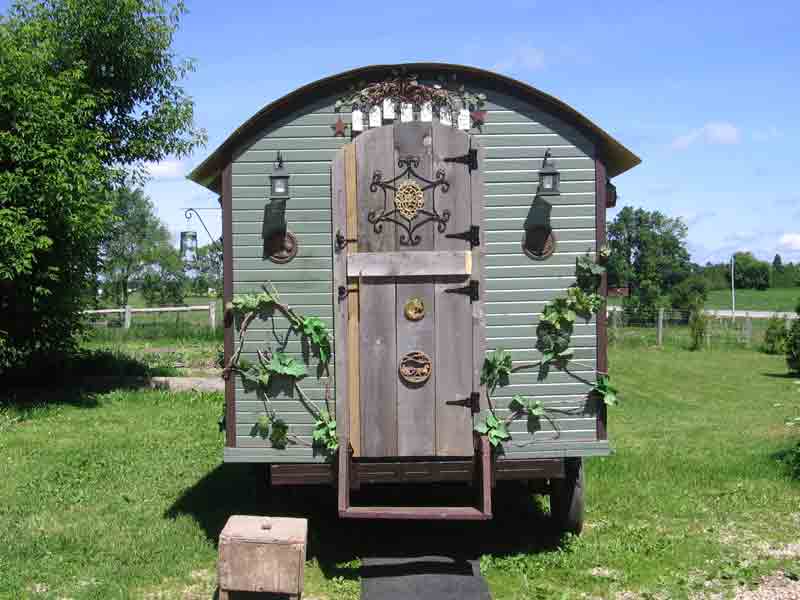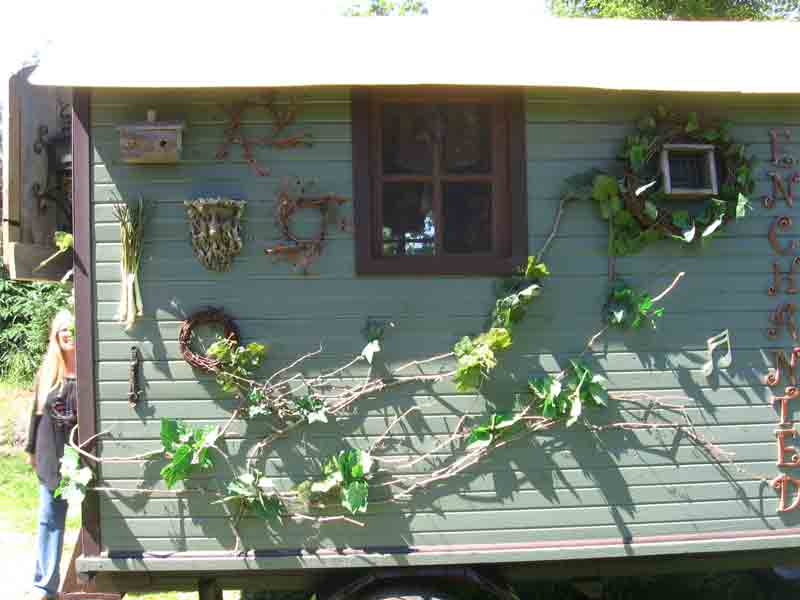 Want to build your own caravan?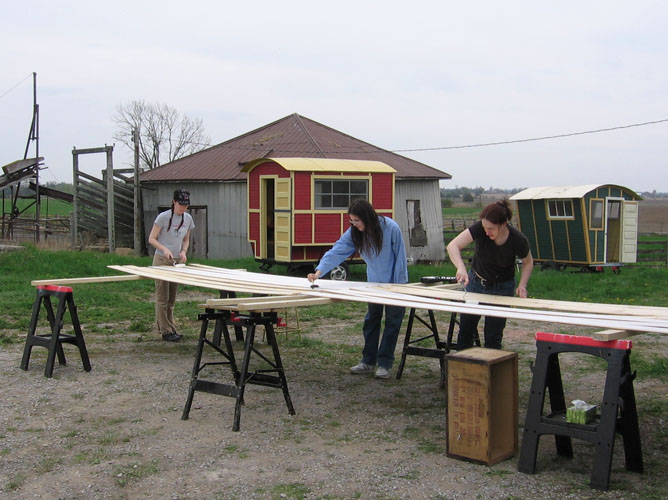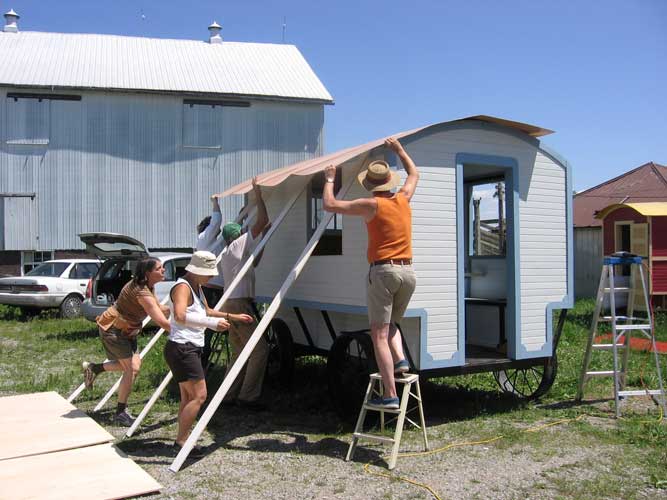 for information about workshops click here
Whether you build your caravan yourself or I help you, my goal is to foster your creativity and bring your dream to life.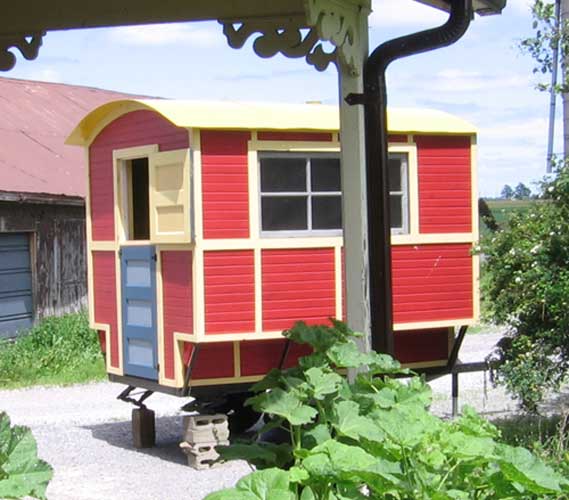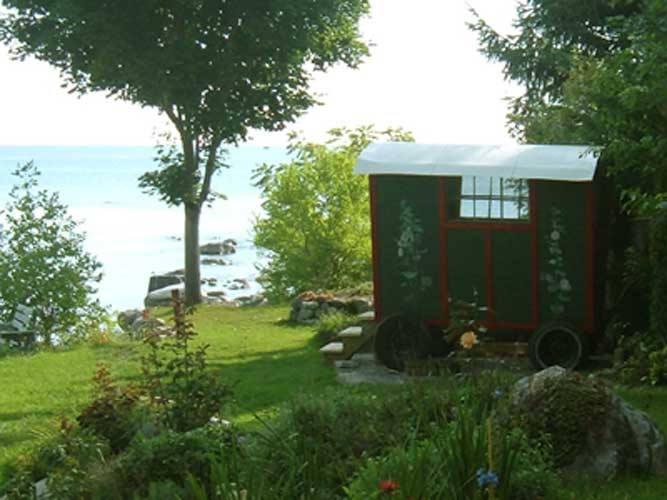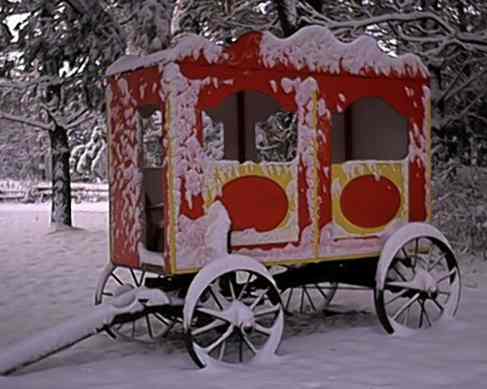 Gypsy Camp at NERO Canada
For our history and pictures of all our caravans, click here
For Pictures of Other Homemade Caravans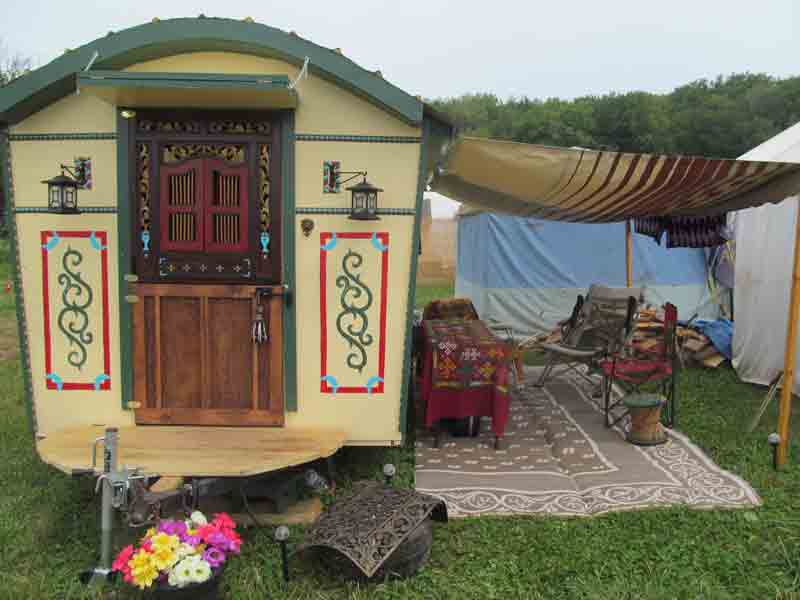 and Links to related sites, click here
For Ideas about caravan uses, click here
For Design possibilities, click here
In March 2013 I drove to Wisconsin to visit Circus World Museum.
Imagine being surrounded by these awesome circus wagons!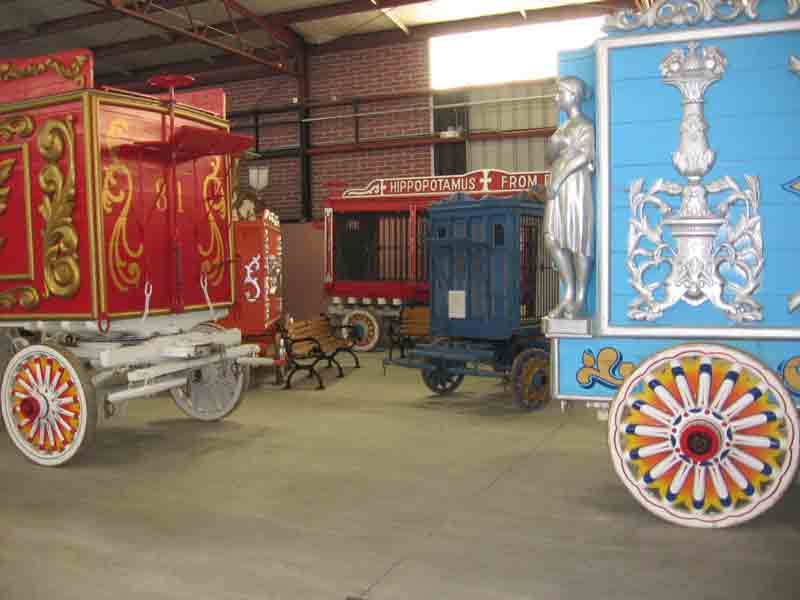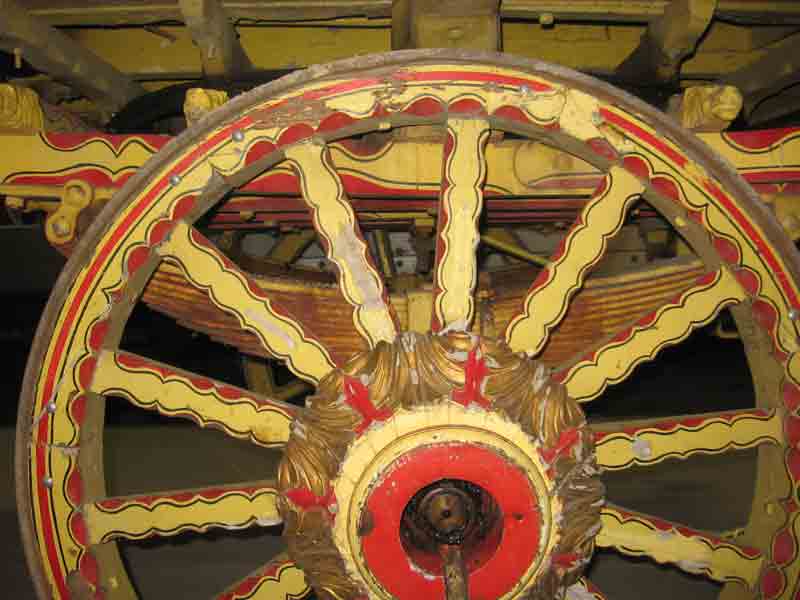 To inspire you, here's a link to a Yahoo group dedicated to caravan building: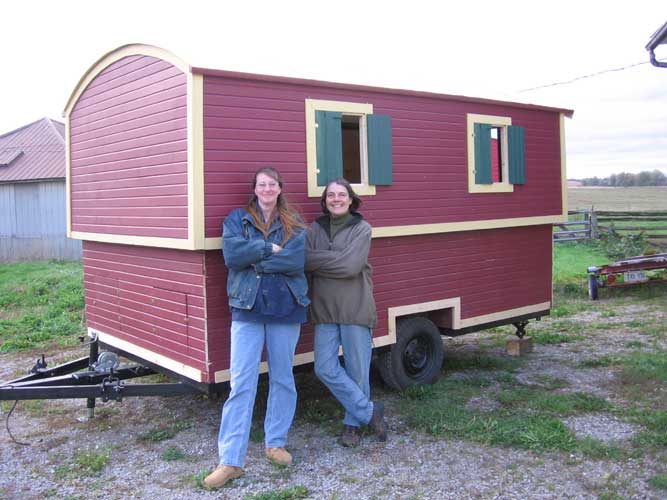 http://groups.yahoo.com/group/vardoshavora/
Recent Caravans
The BEARAVAN, a playhouse for two small boys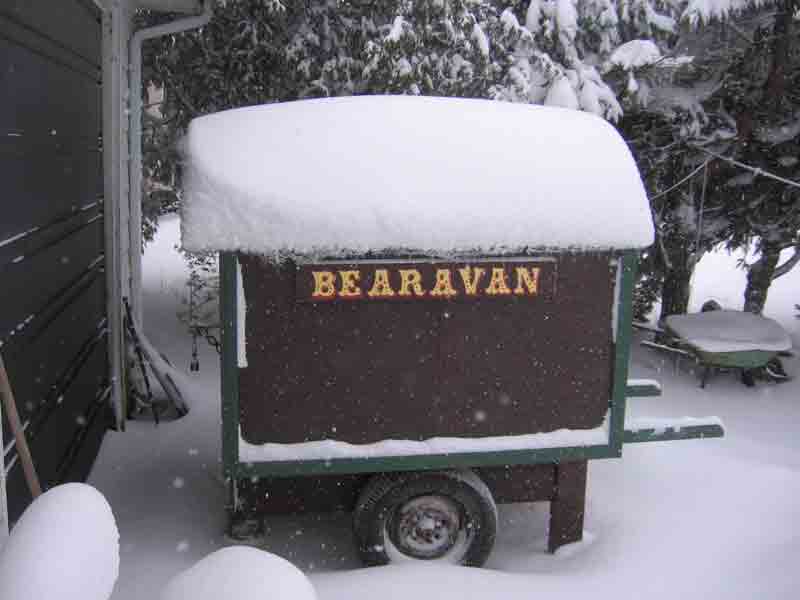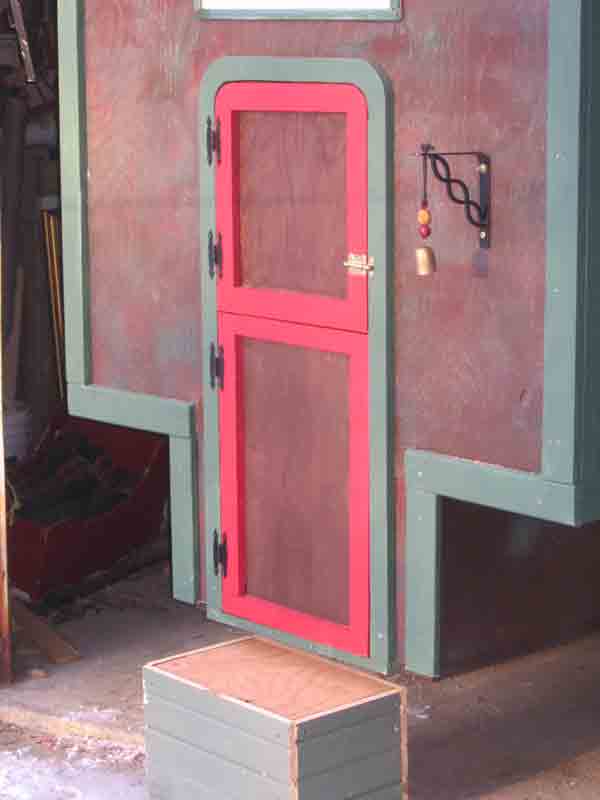 8' Ledge, now at NERO Canada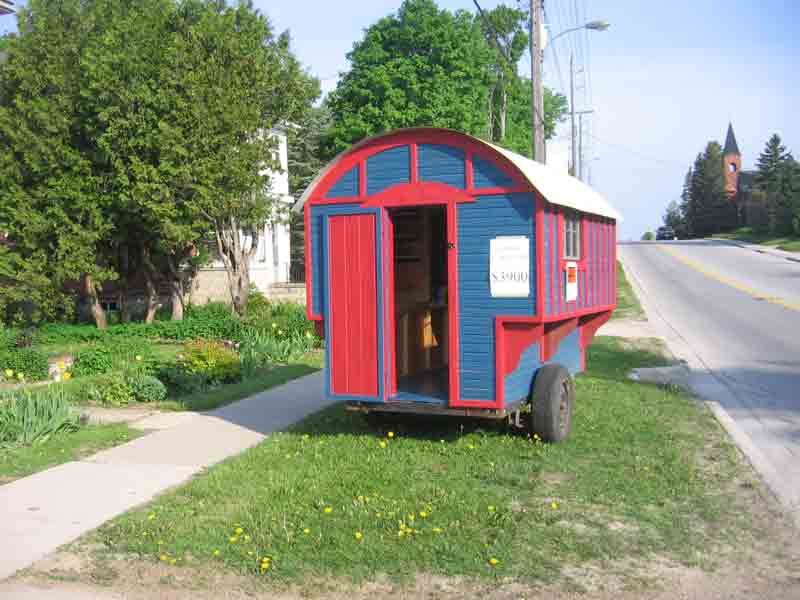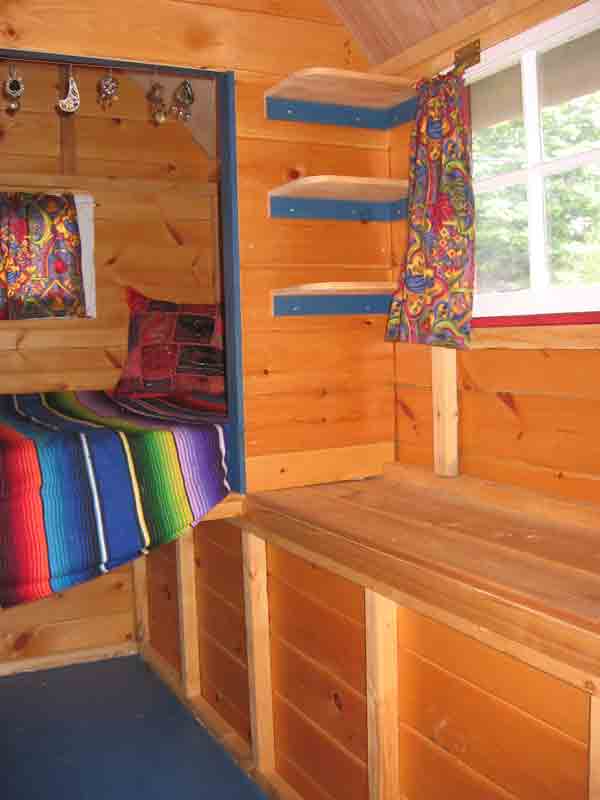 11' Ledge, also at NERO Canada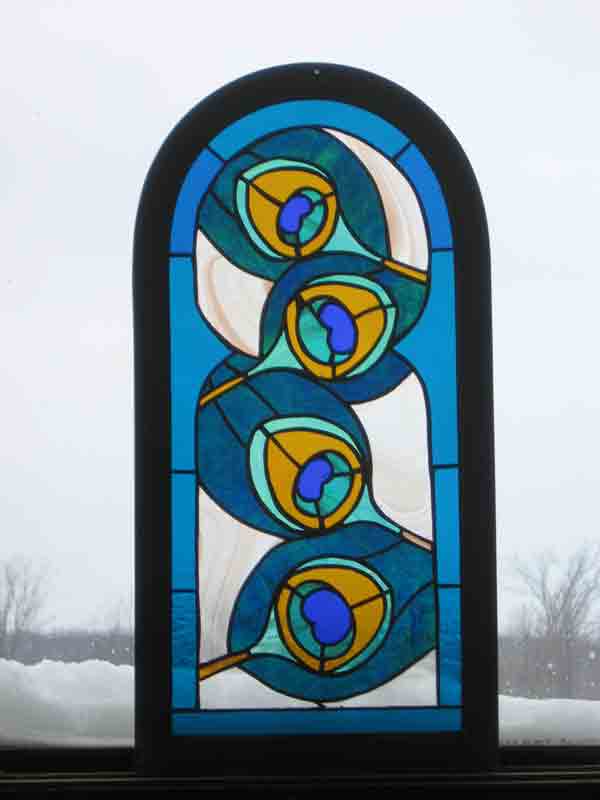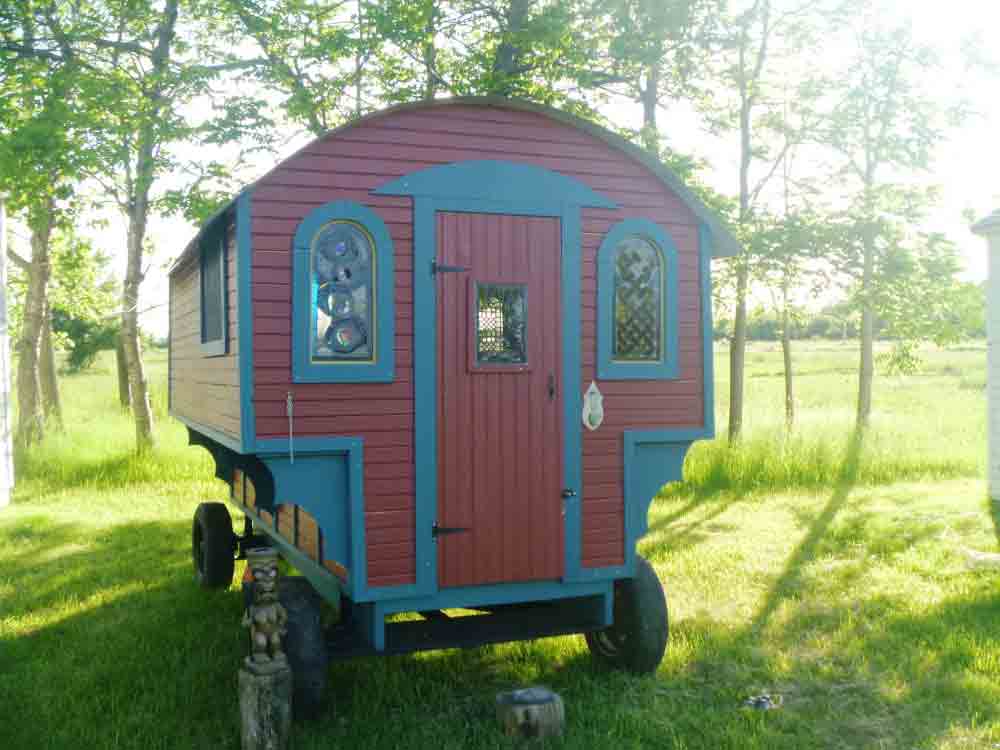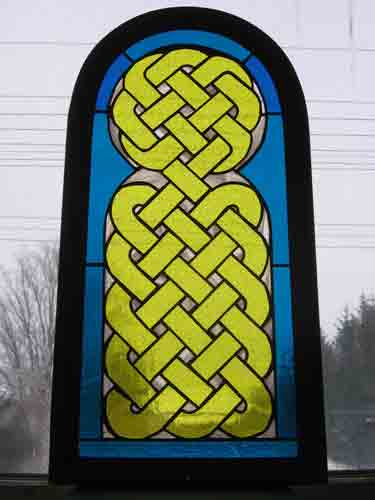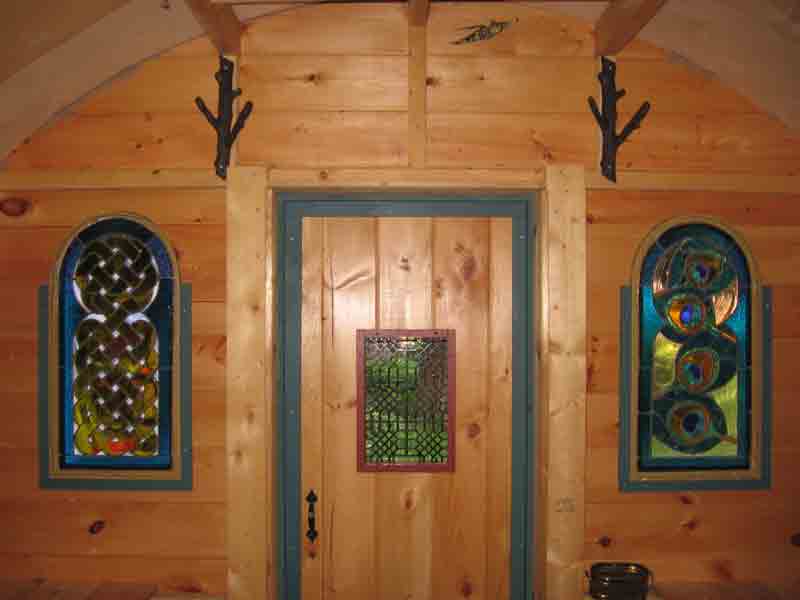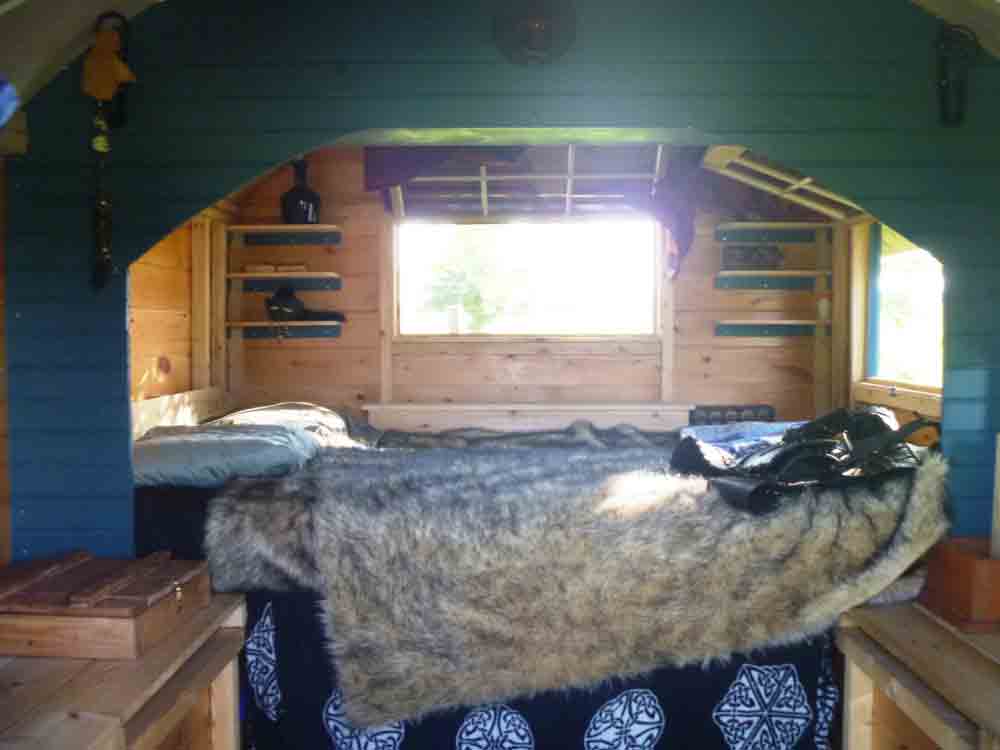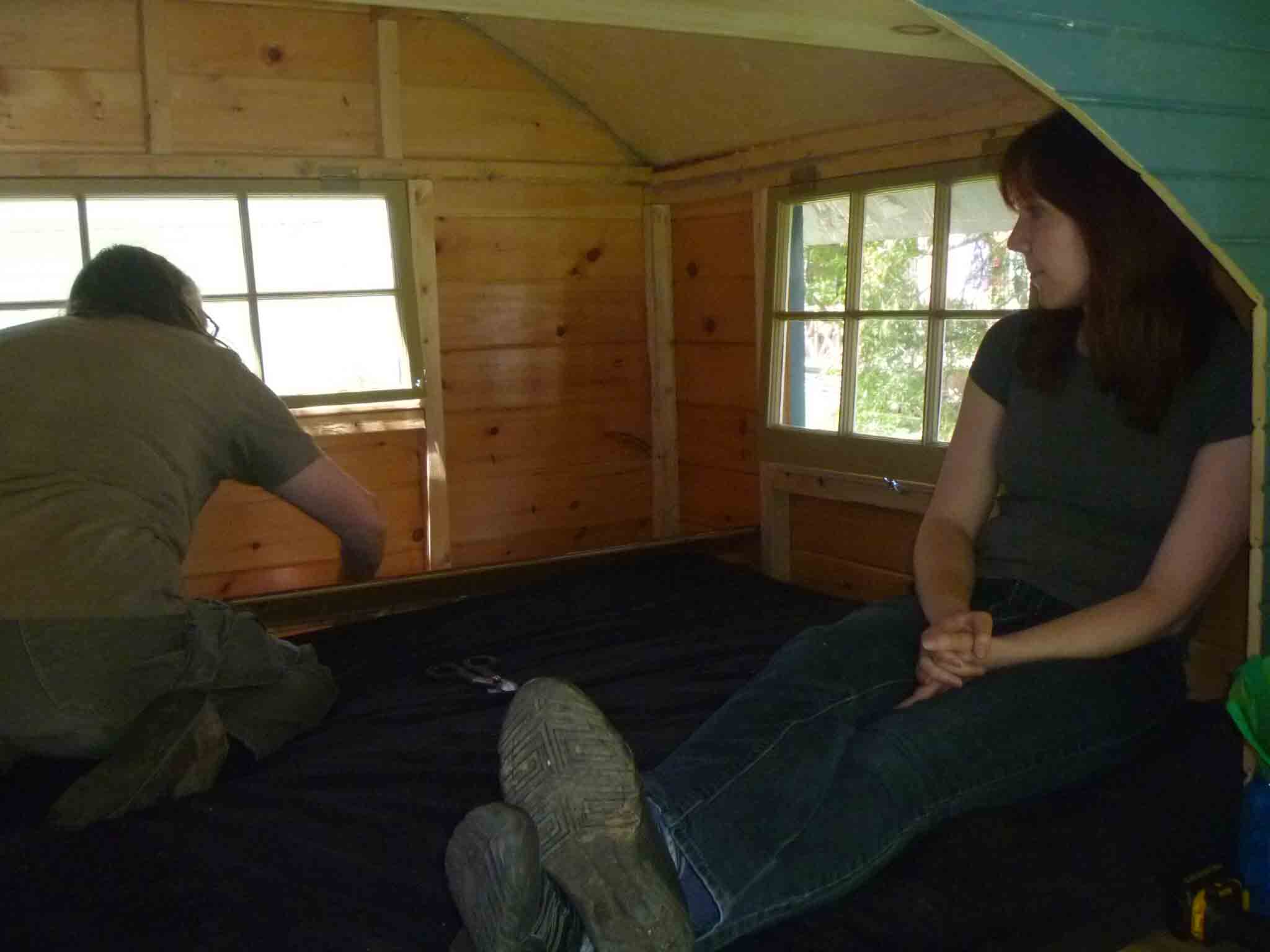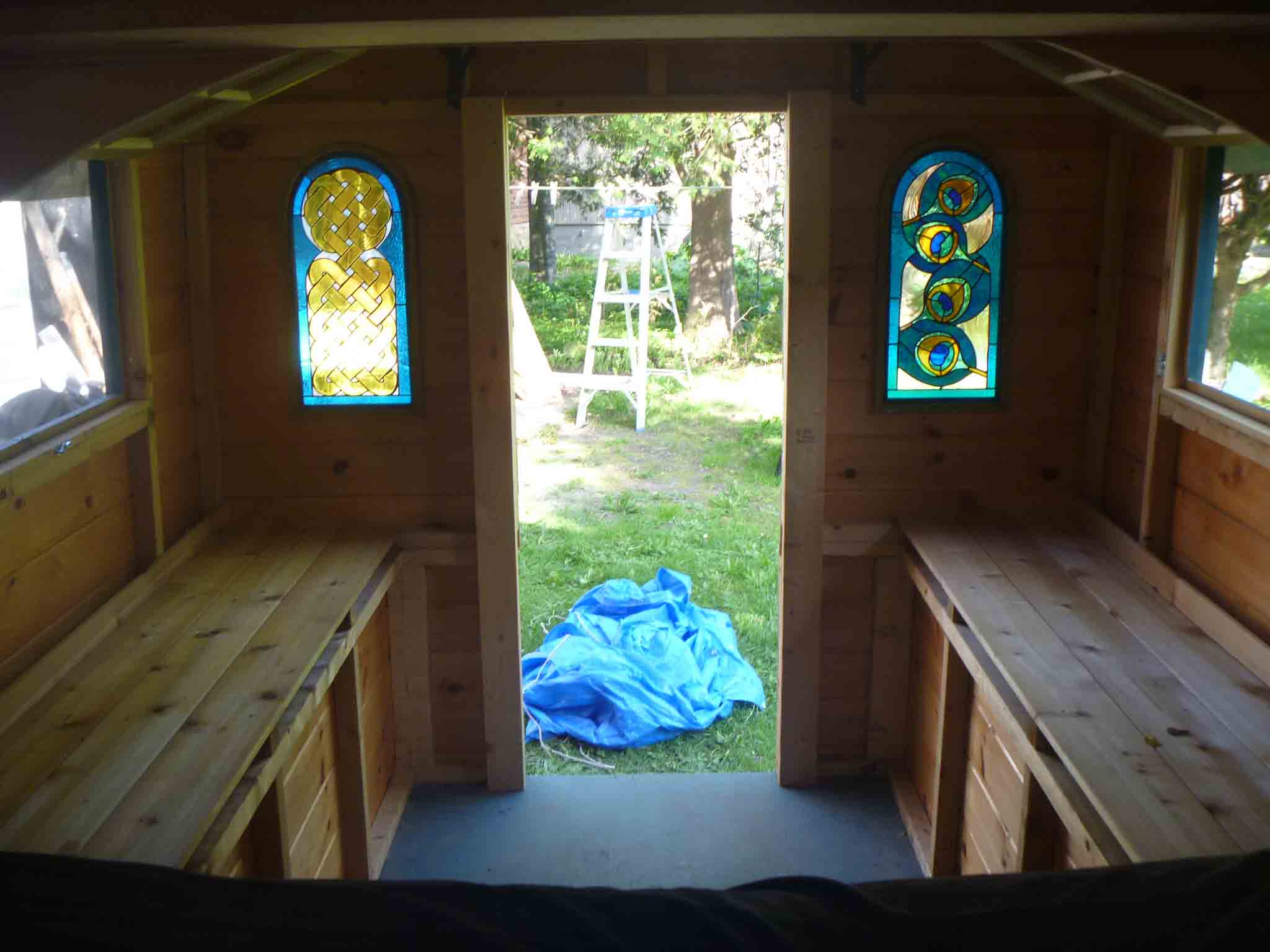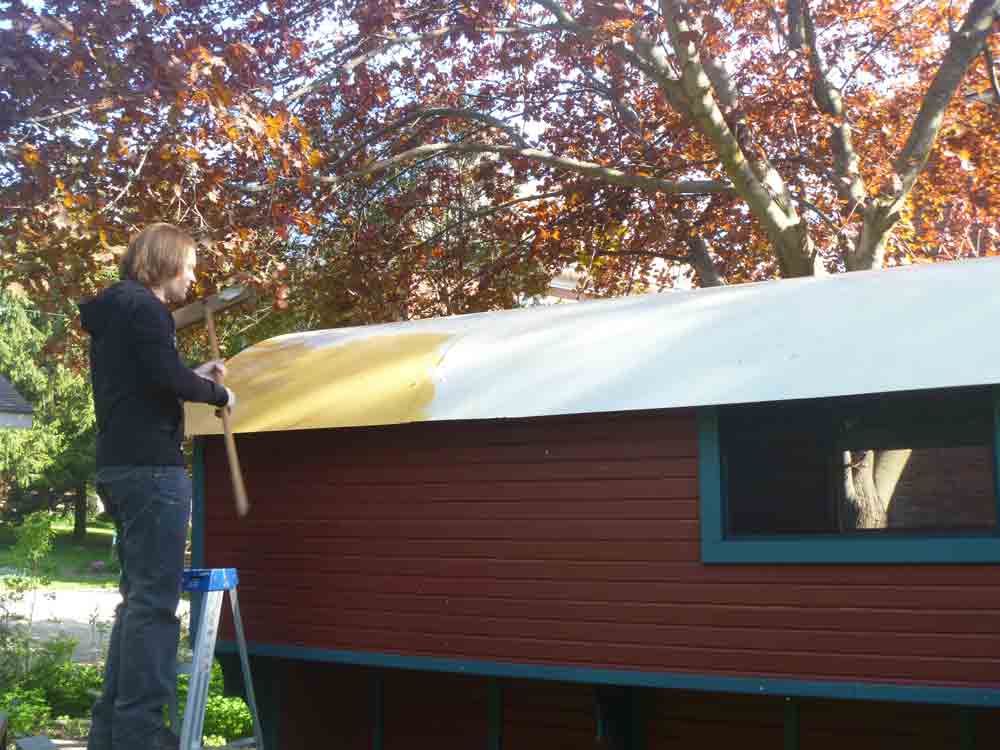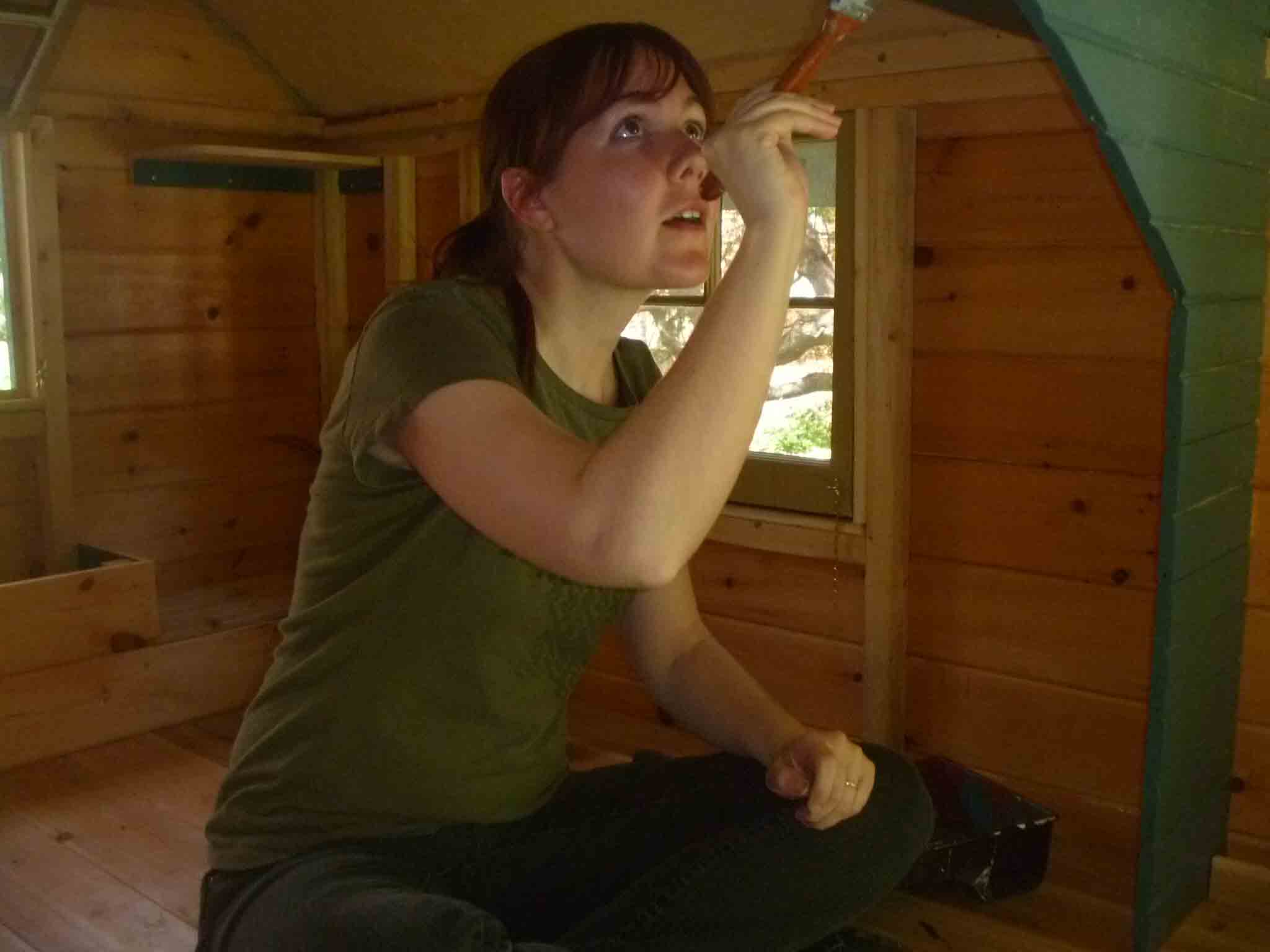 Farmers Market Wagon
This is how far we got in the first 5 days.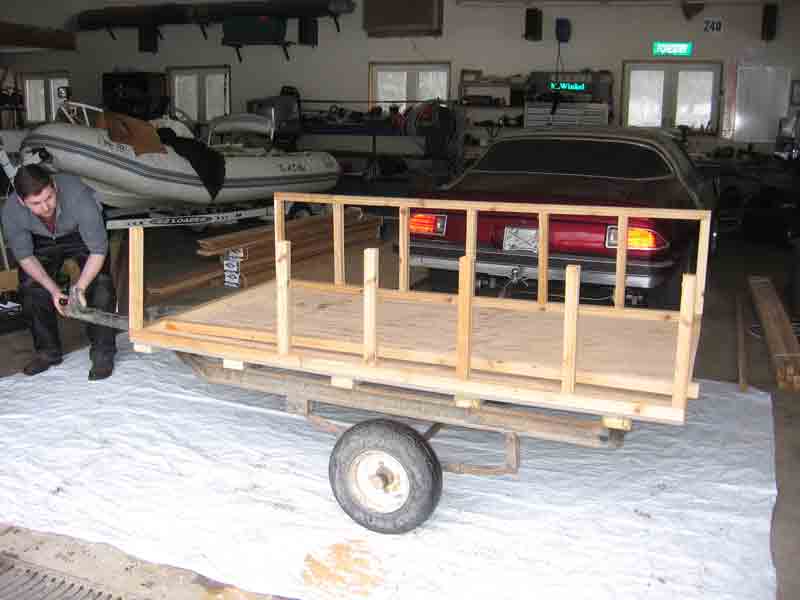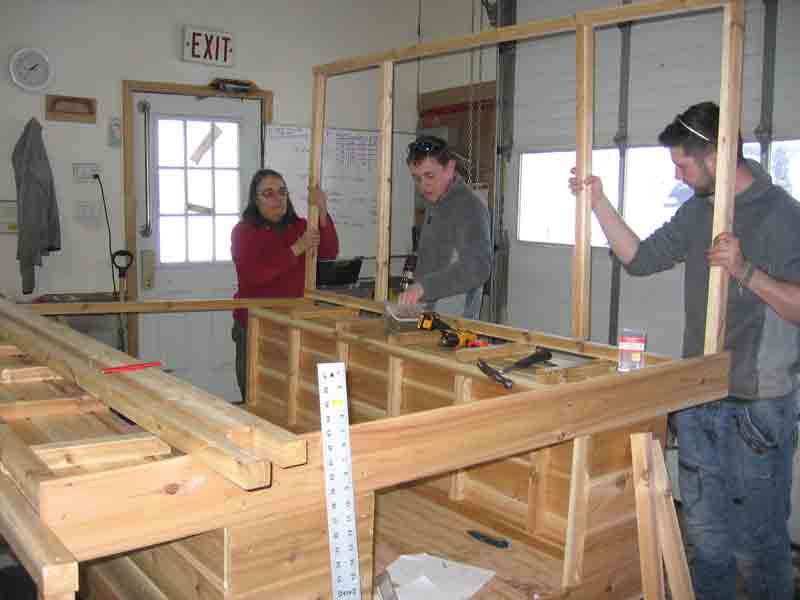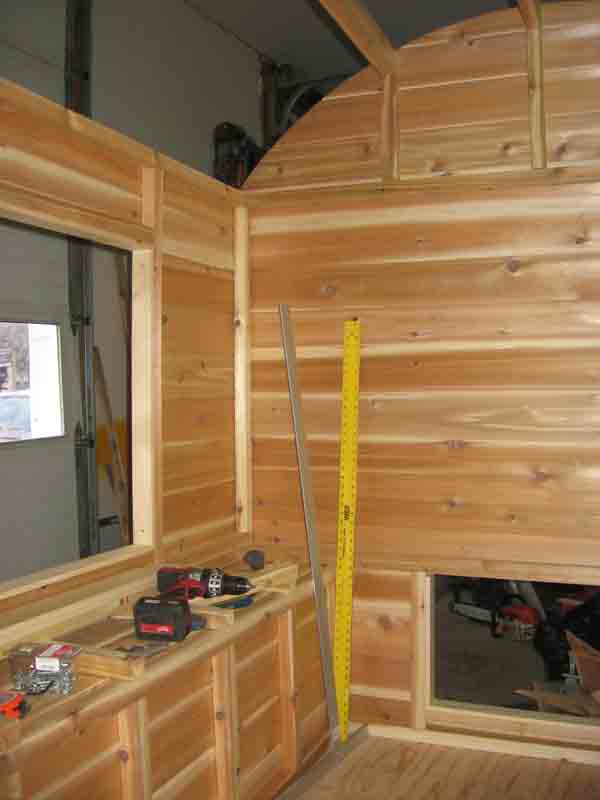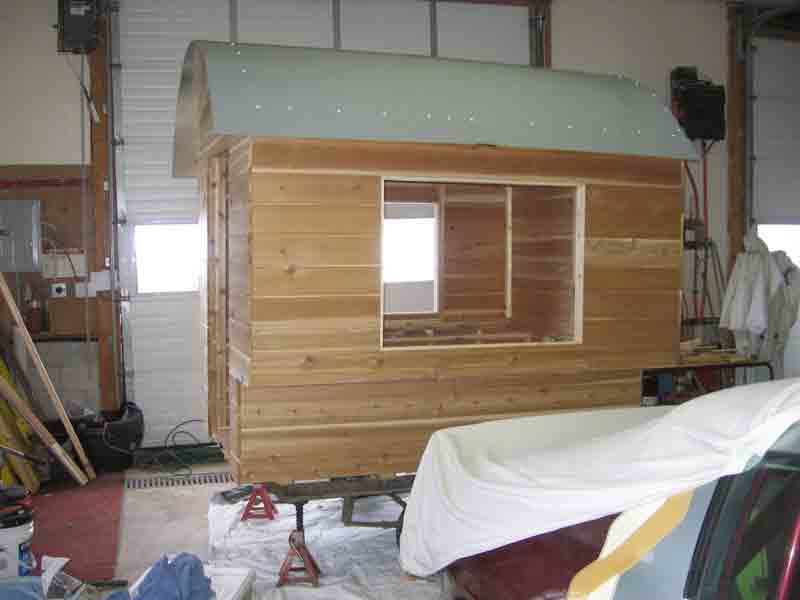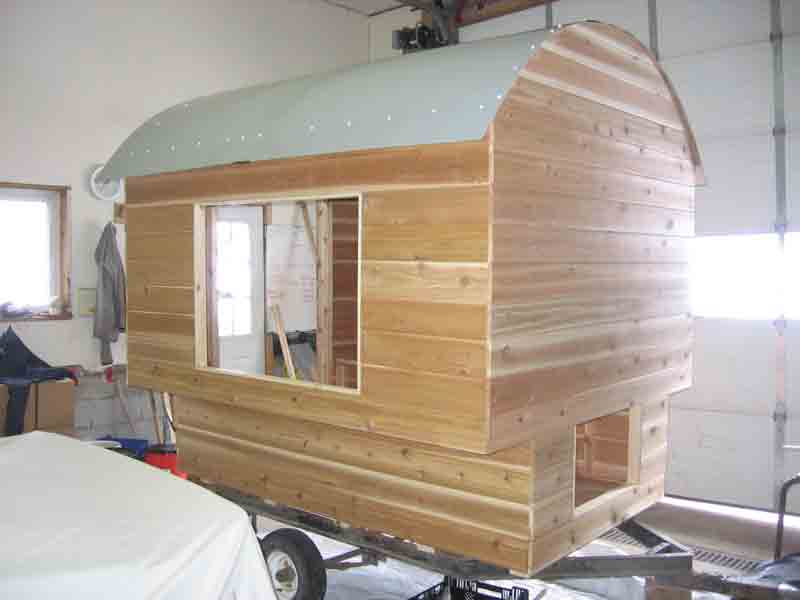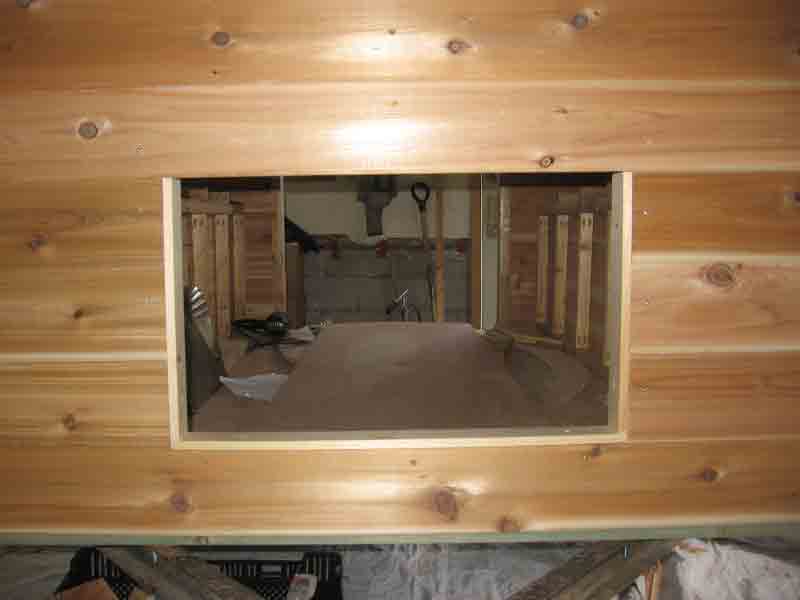 11' Cedar Ledge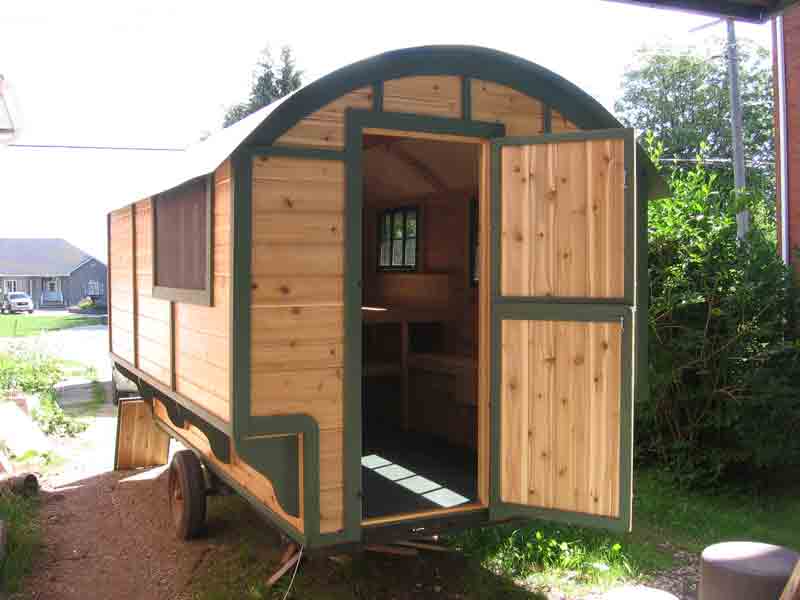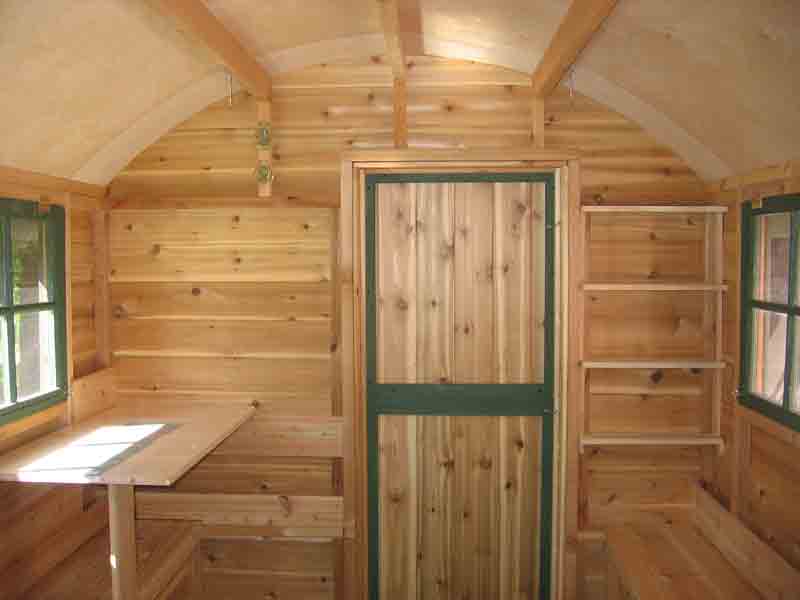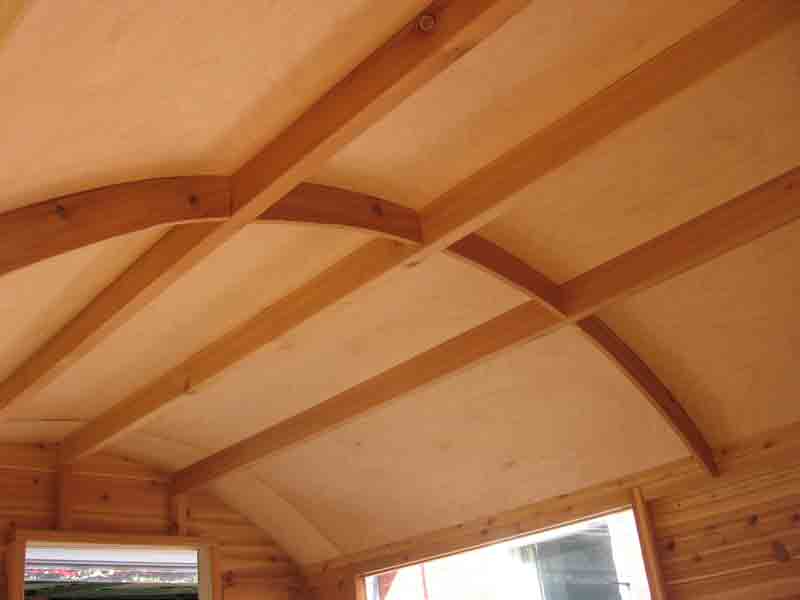 Pam's new caravan, a 12' ledge
check it out on Pam's blog: mynewcaravan.wordpress.com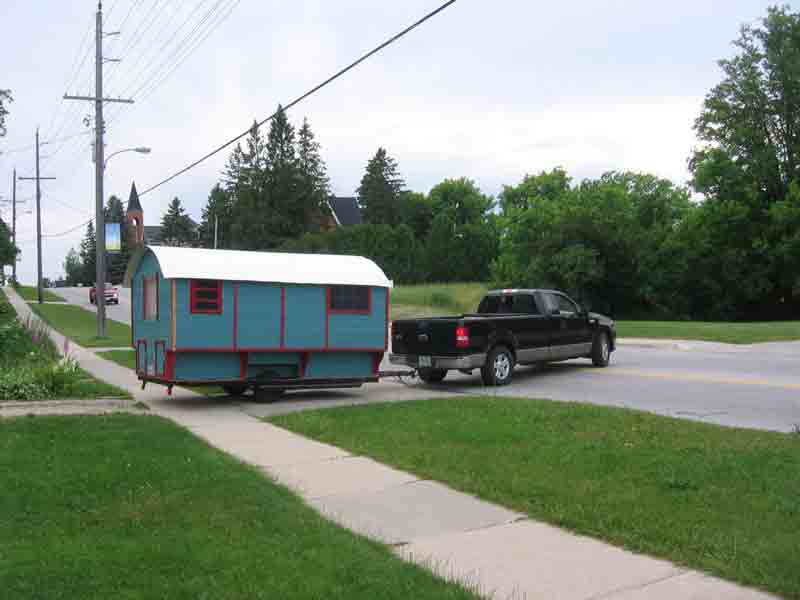 (519) 986-3157 or daphne@daphnescaravans.com